It's that time of year again: the run-up to the extraordinary annual event that is Cogwarts Steampunk Spectacular, soon to unfold at various sites in Llangollen. Over the last six years, Cogwarts has grown to become the largest steampunk gathering in Wales.
In a splendid display of British eccentricity and ingenuity, it's a celebration of the steampunk way of life, of cogs and steam, tea and biscuits. But just what is steampunk?
Steampunk dreams
Steampunk is a history that never was. A re-imagined past, often based on Victorian times, with glorious costumes and fabulous devices and inventions. Think Jules Verne, H.G. Wells, or even Arthur Conan Doyle's The Lost World, where intrepid explorers encounter dinosaurs.
Prior to transistors, had the Victorians discovered modern technology, any device would have been driven by steam and clockwork. And steampunks adore devices and clockwork.
Steampunk is an incredibly inclusive world too. Participants are blind to race, age, ability, and gender but eagerly embrace new ideas for steampunk kit and celebrate clever costumes.
Cogwarts starts off at Llangollen Railway on Friday 15 September, where a magnificent steam train (of course), the Cogwarts Express, will depart at 6:30pm prompt for an hour-and-a-half journey. All manner of shenanigans are expected on the train, including some magic, and a best-picnic-on-the-train competition. Previous years have seen exquisite china and some extraordinarily intricate feasts laid out. One party even managed to bring along a butler and a maid to serve them!
After disembarking from the round trip, it's a short promenade to Llangollen Town Hall, where the Covert Cabaret commences. This year we have burlesque star Madam Zuri Arossa opening the proceedings, followed by the popular Steampunk's Got Talent, in which members of our diverse community show off their party pieces. The evening will be rounded off by outrageous displays of terpsichorean endeavours (dancing) to the fabulously talented Blowzone, a band that steampunks have taken to their hearts.
Wondrous weekend
Saturday and Sunday, 16 –17 September, see Cogwarts ensconced at Llangollen Pavilion, where you will discover stalls and exhibits of steampunk artefacts. You can wonder at Storm Chaser the steampunk car, visit a real time machine, and examine the 'land helicopter' of the crew of The Storm Petrel. New for this year is the 'horse-more-or-less carriage'.
The Bizarre Bazaar opens at 10am each day, with traders from across the Steampunk Empire offering their wares. Entry for the Bazaar is just £4. But be warned, the wondrous items on offer are terrifically tempting. I've personally witnessed many an unconverted Muggle arriving dressed in mufti, and leaving clutching a pair of goggles, with a newfound love of steampunk in their heart.
During the Saturday Bazaar, at 11am, Madam Zuri will be offering a burlesque class. At midday there's a chance for you to excel at teapot racing: a game of skill in which competitors race teapots around an obstacle course against the clock.
At 1pm the Tealympics steampunk games will open. With coveted medals on offer to the winners, keen competitors will compete in trials of strength and cunning. These include tossing the steampipe, tea duelling (that's competitive biscuit dunking), the Battenberg relay, and parasol duelling (an elaborate form of rock-paper-scissors, but with, well, parasols).
At 2pm comes the ever-popular Coggiest Doggiest. competition. Steampunk doggos, puppers, and pooches strut their canine stuff dressed in steampunk finery for the chance of a medal.
Spectacular vernacular
The Bizarre Bazaar closes at 4.30pm, and on Saturday the site is prepared for the Grand Steam Ball at 7.30pm. This year's line-up is stellar, with Madam Zuri Arossa and Miss Malena, Jonathan Markwood's Hoo Hah Conspiracy, Blowzone, and Victor and The Bully. This year's headliner is the dapper spirit of steampunk himself, Mr B. the Gentleman Rhymer.
Sunday 17 September sees the Tealympics reconvening at 11am, with the opportunity for those still without medals to compete to win. At noon that day, there will be more teapot racing and steampunk games.
Cogwarts Steampunk Spectacular 2023 will conclude at 4.30pm on Sunday. We will all begin to pack up and go home, a bit sad that it's all over. But soon we will begin planning even more eccentric costumes and even more elaborate picnics for 2024.
Come and join US (Utter Spiffingtonians) for a wonderful weekend of pure steampunk mad-hattery and general goings-on. Please note that ticket sales will end on the Thursday before the event, but you can still buy them at various venues during the event, including at the gates. We will not run out of tickets, so you can travel in confidence knowing you will get in.
They are extraordinarily good value tickets, as Cogwarts is committed to giving you more steam for your shillings. While the venue prices have gone up dramatically, ticket prices are the same as last year. Get costume crafting, and we look forward to seeing you soon in future-past time.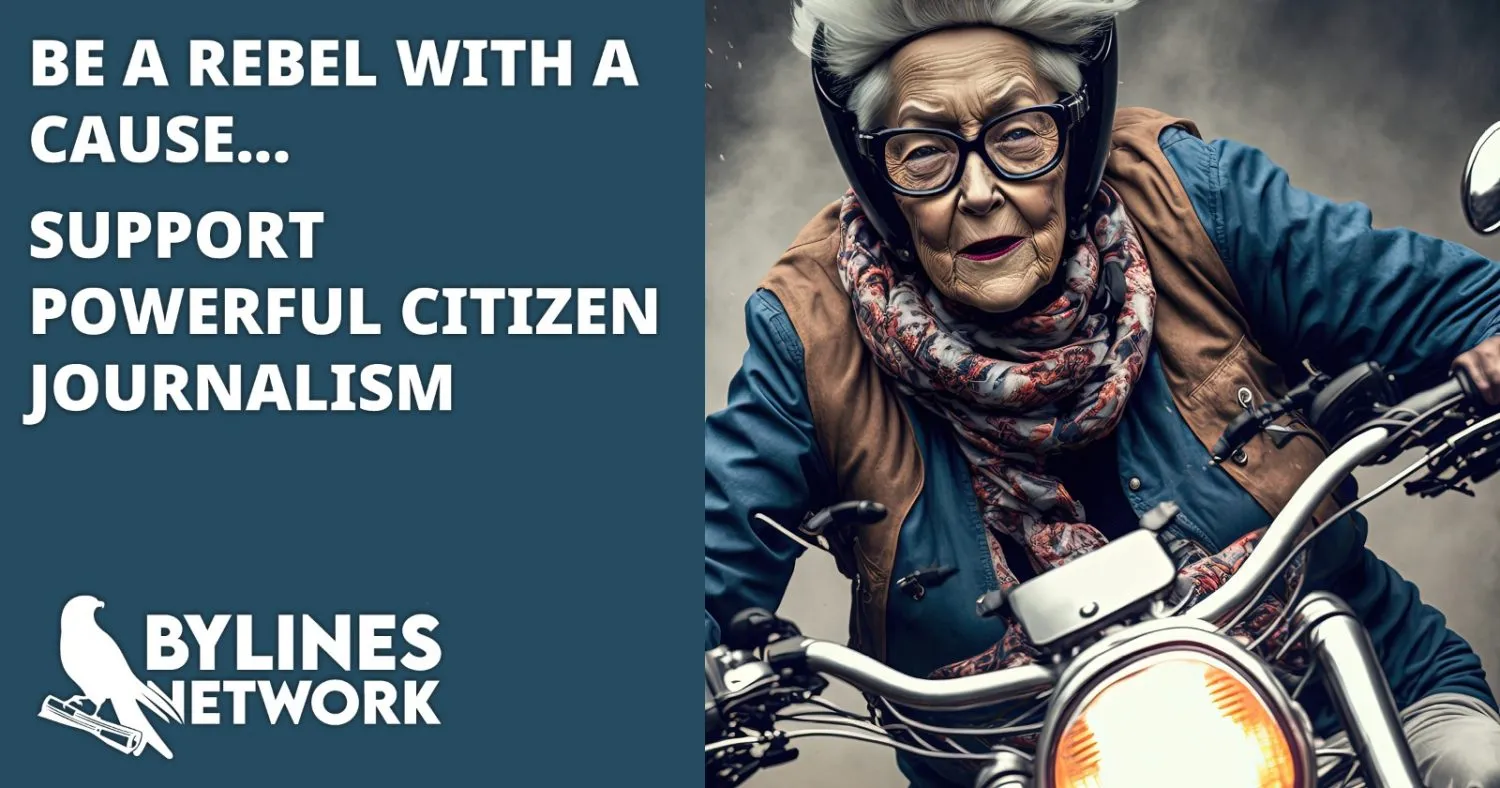 CLICK HERE TO SUPPORT THE BYLINES NETWORK CROWDFUNDER!