I have a dog called Huwcyn, who is blind in one eye. He's so lush. I was asked to do an animation for TikTok last year. The tune I was given went something like "I went to bed and I loved you", and I started off doing it about a couple. But I'd just been through a break up, and got a dog, so I started again and just made it about me and Huwcyn.
I'm writing a TV script at the moment. It has an episode about Huwcyn. It was quite spooky because the week before I got him, I had a dream about a black curly dog, then a friend said this dog needed a home, and there he was. Huwcyn is a Welsh name that means 'Sandman'.
I'm very inspired by the natural world. That's one reason it's great having Huwcyn, as walking him gets me out into Cardiff's wonderful parks.
The secret of Welshness
I'm very dyslexic so I didn't do very well at school, and didn't enjoy it. It was a struggle. There was one teacher who was very strict and had a rule that no doodling was allowed. But one day she looked at my doodles and thought they were very good. She made an official exception to the doodling rule, which was quite encouraging.
I did art foundation, focussed on photography, then that got me into film and I worked as a runner, which led me to animation, and I became fully obsessed. I've always been drawn to narrative, and the way things form a story. Animation is such a perfect medium for that. You can really go off into your imagination with it.
I've made a lot of short films but I'm getting too old for it. Yet I feel too naive somehow to go into full-length film and television. I feel like I'm at a crossroads. That's why I'm working on scripts for a series and a live action film. I feel like if I just bring these stories into being, it might lead me to somewhere new.
My Dad is Welsh, and we have a lot of interesting chats about Welshness, about colonialism, about our culture. But it feels like a sort of precious secret. I went to Bristol to study animation, and no one there had any idea about Wales or Welsh.
I love that we have this richness of culture, the stories, the Mabinogion and so much more, but it makes me sad that it's so little known even just across the bridge. When it is known, it's often talked down, our language sometimes treated as gobbledygook.
The inspiration of Welshness
I like to have Welsh references in my work. I made an animated short film and it was important to me to have Welsh in it. Cwch Deilen, or Leaf Boat, is about the obstacles and excitement of a new relationship between Heledd and Celyn. I feel so lucky to have received funding from Ffilm Cymru, allowing me six months to work on it.

A lot of young people my age are reclaiming Welsh cultural elements, including stories. I feel like there's a revival going on. I love the Irish animated film Song of the Sea and would love to make a film about the Mabinogion or similar, inspired by that.
Living and studying in Bristol had a huge impact on my Welshness. When you live in England, you become a better Welsh person. When you grow up in Wales and learn Welsh you can take it for granted. You're a fish in water. Going outside Wales made it so obviously special and you crave to go back, you get hiraeth. I was in Porter's the other day, there was a great Welsh band on, the Welsh music scene is really strong in Cardiff. People were speaking Welsh all around me. It just felt so wonderful to be swimming in that sea again.
But other influences can be really powerful. I went to Budapest while I was studying, on the Erasmus programme. I made a film called Earthly Delights that people say was very clearly influenced by Hungarian animation. I made amazing connections there, and it makes me so sad that people younger than me can no longer benefit from it, after Brexit.
It was such a special thing, I met other young people on the same journey, with different perspectives, yes, but with so much in common. The animated film The Princess and the Goblin was made jointly in Wales and in Hungary, translated into English, Welsh, and Hungarian. I watched it in Welsh as a child, and met artists in Hungary who had watched it in Hungarian.
The resourcefulness of Welshness
There's a really great group in Wales called the On Your Face collective, which promotes and supports queer Welsh artists. It's mostly very grassroots and voluntary. There's a lot of that sort of thing happening in Cardiff. People see a need for a space and just start things.
Take the Capitol Shopping Centre in the centre of Cardiff. Artists have been taking over empty shops. The basement has studios and performance spaces. There's a project called the Umbrella Art Collective. It's really buzzing.
That's something that happens a lot in Wales I think, this DIY spirit. Not done from ego but from need. People get together and create community spaces and opportunities together.
But there's a sustainability issue. It's giving so much to Wales and marginalised communities but creative people often struggle with things like the paperwork of grants and other funding. And they have to spend time trying to make a living, of course.
It would be sad if such things fizzled out. Then again, people would just start more things. That's Wales. That's Welshness.
---
Mae Cymreictod yn teimlo fel cyfrinach werthfawr
Mae gen i gi o'r enw Huwcyn, sy'n ddall mewn un llygad. Mae e mor lush. Gofynnwyd i mi wneud animeiddiad ar gyfer TikTok y llynedd. Aeth y dôn a gefais i rywbeth fel "Es i i'r gwely ac roeddwn i'n dy garu di", a dechreuais ei wneud am gwpl. Ond roeddwn i newydd fod trwy doriad i fyny, a chael ci, felly dechreuais eto a gwneud y peth amdanaf i a Huwcyn.
Dwi'n sgwennu sgript deledu ar hyn o bryd. Mae ganddo bennod am Huwcyn. Roedd yn eitha arswydus oherwydd yr wythnos cyn i mi ei gael, cefais freuddwyd am gi cyrliog du, yna dywedodd ffrind fod angen cartref ar y ci hwn, ac yno yr oedd. Enw Cymraeg yw Huwcyn sy'n golygu 'Sandman'.
Rwy'n cael fy ysbrydoli'n fawr gan fyd natur. Dyna un rheswm mae'n wych cael Huwcyn, gan fod ei gerdded yn mynd â fi allan i barciau bendigedig Caerdydd.
Cyfrinach Cymreictod
Rwy'n ddyslecsig iawn felly wnes i ddim yn dda iawn yn yr ysgol, a wnes i ddim ei fwynhau. Roedd yn frwydr. Roedd un athro a oedd yn llym iawn ac roedd ganddo reol na chaniateir dwdlo. Ond un diwrnod edrychodd ar fy dwdlau a meddwl eu bod yn dda iawn. Gwnaeth eithriad swyddogol i'r rheol dwdlo, a oedd yn eithaf calonogol.
Fe wnes i sylfaen celf, yn canolbwyntio ar ffotograffiaeth, yna fe wnaeth hynny fy nghael i mewn i ffilm a gweithiais fel rhedwr, a arweiniodd at animeiddio, a deuthum yn gwbl obsesiwn. Rwyf bob amser wedi cael fy nhynnu at naratif, a'r ffordd y mae pethau'n ffurfio stori. Mae animeiddio yn gyfrwng mor berffaith ar gyfer hynny. Gallwch chi wir fynd i mewn i'ch dychymyg ag ef.
Rwyf wedi gwneud llawer o ffilmiau byr ond rwy'n mynd yn rhy hen ar ei gyfer. Ond eto dwi'n teimlo'n rhy naïf rhywsut i fynd i fyd ffilm a theledu llawn. Rwy'n teimlo fy mod ar groesffordd. Dyna pam dwi'n gweithio ar sgriptiau ar gyfer cyfres a ffilm actio byw. Rwy'n teimlo pe bawn i'n dod â'r straeon hyn i fodolaeth, fe allai fy arwain i rywle newydd.
Mae fy Nhad yn Gymro, ac rydym yn cael llawer o sgyrsiau difyr am Gymreictod, am wladychiaeth, am ein diwylliant. Ond mae'n teimlo fel rhyw fath o gyfrinach werthfawr. Es i Fryste i astudio animeiddio, a doedd gan neb yno unrhyw syniad am Gymru na Chymraeg.
Rwyf wrth fy modd bod gennym y cyfoeth hwn o ddiwylliant, y straeon, y Mabinogion a llawer mwy, ond mae'n fy ngwneud yn drist bod cyn lleied yn hysbys hyd yn oed ar draws y bont. Pan fydd yn hysbys, mae'n cael ei siarad yn aml, mae ein hiaith weithiau'n cael ei thrin fel gobbledygook.
Ysbrydoliaeth Cymreictod
Rwy'n hoffi cael cyfeiriadau Cymraeg yn fy ngwaith. Fe wnes i ffilm fer wedi'i hanimeiddio ac roedd yn bwysig i mi gael Cymraeg ynddi. Mae Cwch Deilen, neu Leaf Boat, yn sôn am rwystrau a chyffro perthynas newydd rhwng Heledd a Celyn. Rwy'n teimlo mor ffodus fy mod wedi derbyn cyllid gan Ffilm Cymru, gan ganiatáu chwe mis i mi weithio arno.
Mae llawer o bobl ifanc fy oedran i yn adennill elfennau diwylliannol, gan gynnwys straeon. Rwy'n teimlo bod adfywiad yn digwydd. Rwyf wrth fy modd â'r ffilm animeiddiedig Wyddelig Song of the Sea a byddwn wrth fy modd yn gwneud ffilm am y Mabinogion neu debyg, wedi'i hysbrydoli gan hynny.
Cafodd byw ac astudio ym Mryste effaith aruthrol ar fy Nghymreictod. Pan fyddwch chi'n byw yn Lloegr, rydych chi'n dod yn Gymro gwell. Pan fyddwch chi'n tyfu i fyny yng Nghymru ac yn dysgu Cymraeg gallwch chi ei gymryd yn ganiataol. Rydych chi'n bysgodyn mewn dŵr. Roedd mynd y tu allan i Gymru yn ei gwneud hi mor amlwg yn arbennig ac rydych chi eisiau mynd yn ôl, rydych chi'n cael hiraeth.
Roeddwn i yn Porter's y diwrnod o'r blaen, roedd yna fand Cymraeg gwych ymlaen, mae'r sîn gerddoriaeth Gymraeg yn gryf iawn yng Nghaerdydd. Roedd pobl yn siarad Cymraeg o'm cwmpas. Roedd yn teimlo mor wych i fod yn nofio yn y môr hwnnw eto.
Ond gall dylanwadau eraill fod yn wirioneddol bwerus. Es i i Budapest tra roeddwn yn astudio, ar y rhaglen Erasmus. Fe wnes i ffilm o'r enw Earthly Delights y mae pobl yn dweud yn amlwg iawn fod animeiddiad Hwngari wedi dylanwadu arni. Gwneuthum gysylltiadau anhygoel yno, ac mae'n fy ngwneud mor drist fel na all pobl iau na mi elwa ohono mwyach, ar ôl Brexit.
Roedd yn beth mor arbennig, cwrddais â phobl ifanc eraill ar yr un daith, gyda safbwyntiau gwahanol, ie, ond gyda chymaint yn gyffredin. Cafodd y ffilm animeiddiedig The Princess and the Goblin ei gwneud ar y cyd yng Nghymru ac yn Hwngari, wedi'i chyfieithu i'r Saesneg, y Gymraeg a Hwngari. Fe wnes i ei wylio yn Gymraeg yn blentyn a chwrddais ag artistiaid yn Hwngari oedd wedi ei wylio yn Hwngari.
Dyfeisgarwch Cymreictod
Mae grŵp gwirioneddol wych yng Nghymru o'r enw grŵp On Your Face, sy'n hyrwyddo ac yn cefnogi artistiaid queer Cymreig. Mae ar lawr gwlad yn bennaf ac yn wirfoddol. Mae llawer o'r math yna o beth yn digwydd yng Nghaerdydd. Mae pobl yn gweld angen am ofod a dim ond dechrau pethau.
Cymerwch Ganolfan Siopa Capitol yng nghanol Caerdydd. Mae artistiaid wedi bod yn cymryd drosodd siopau gwag. Mae gan yr islawr stiwdios a mannau perfformio. Mae yna brosiect o'r enw Umbrella Art Collective. Mae'n wirioneddol fwrlwm.
Mae hynny'n rhywbeth sy'n digwydd llawer yng Nghymru dwi'n meddwl, yr ysbryd DIY hwn. Heb ei wneud o ego ond o angen. Mae pobl yn dod at ei gilydd ac yn creu mannau a chyfleoedd cymunedol gyda'i gilydd.
Ond mae yna fater cynaliadwyedd. Mae'n rhoi cymaint i Gymru a chymunedau ymylol ond mae pobl greadigol yn aml yn cael trafferth gyda phethau fel gwaith papur grantiau a chyllid arall. Ac mae'n rhaid iddyn nhw dreulio amser yn ceisio gwneud bywoliaeth, wrth gwrs.
Byddai'n drist pe bai pethau o'r fath yn dod i ben. Yna eto, byddai pobl yn dechrau mwy o bethau. Dyna Gymru. Dyna Gymreictod.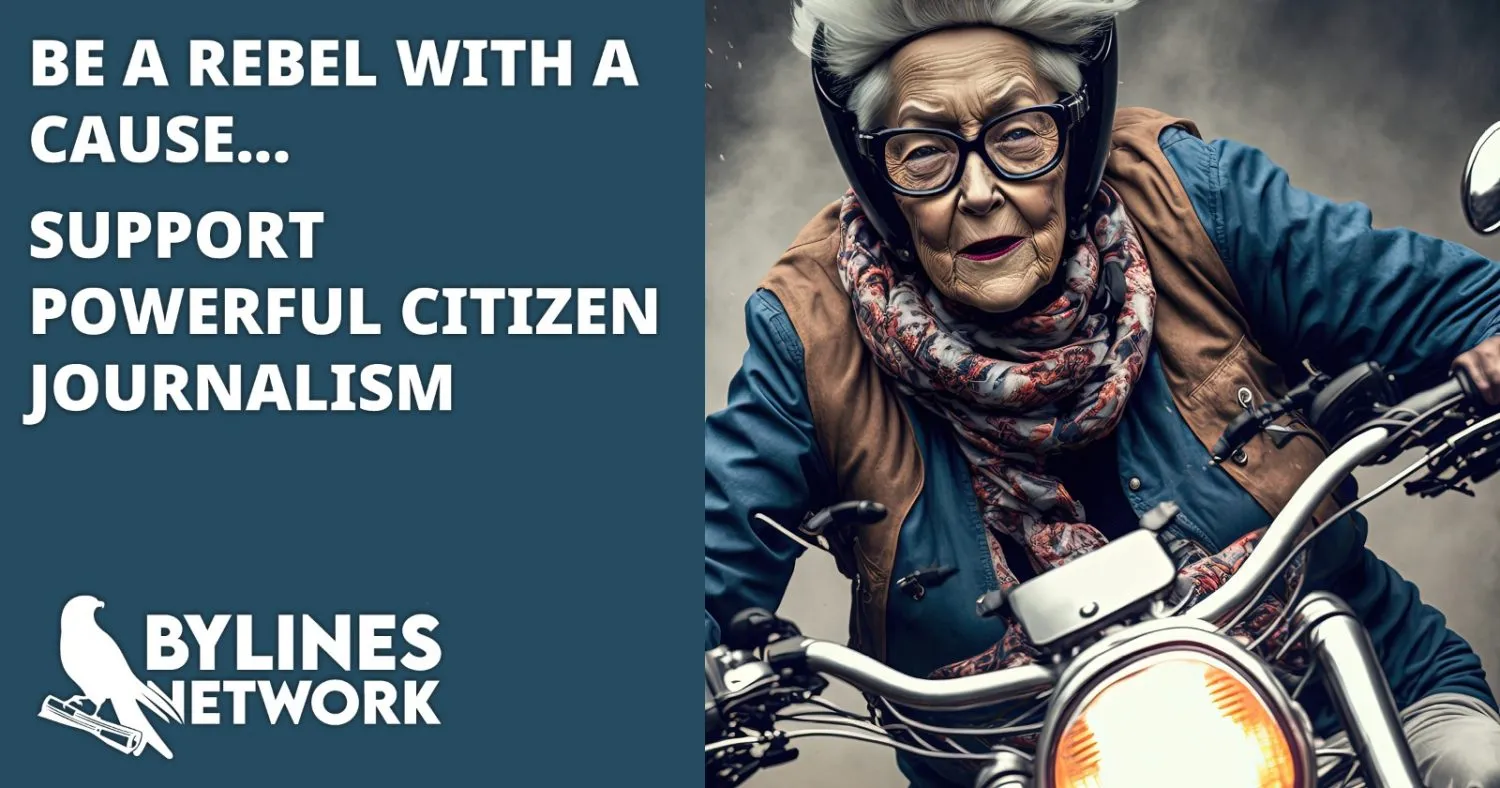 CLICK HERE TO SUPPORT THE BYLINES NETWORK CROWDFUNDER!