Women gave birth to Hollywood. During the silent movie era, women virtually controlled the industry.
For example, female screenwriters outnumbered males by a ratio of ten to one. These mothers of filmic creativity included writers, directors, producers, and, of course, actresses.
Alice, Francelia, Anita
To start at the beginning, Alice Guy-Blaché, (1873–1968) was one of the first filmmakers to make a narrative fiction film. She was the first woman to direct a film and, from 1896 to 1906, the only known female filmmaker in the world. She experimented with sync-sound, colour-tinting, and special effects.
Francelia Billington (1895–1934), pictured in the featured image for this article, was both an actress and a crank turner, or camera operator. Many women of the early silent era multitasked as actresses, producers, directors, and camera operators. She said, "I suppose that it is still a novelty to see a girl more interested in a mechanical problem than in makeup." Sadly, Billington died of tuberculosis, a disease that claimed the lives of many people in the 1910–1950 movie community.
Anita Loos (1888–1981) was the first female scriptwriter employed by a film company, the Triangle Film Corporation. She received $75 a week, with a bonus for every screenplay she produced. Many of the screenplays Loos wrote for Triangle were not filmed because the laughs were all in the lines and were difficult to convey on the screen. Nevertheless, filmmaker D. W. Griffith recognised her talent and urged her to continue.
Loos's first screen credit arrived with an adaptation of Macbeth. She wrote the subtitles for D. W. Griffith's 1916 epic Intolerance and is credited with introducing wisecracking to movie intertitles. International fame arrived in 1925 through her novel, Broadway play, and movie Gentlemen Prefer Blondes, which began as a series of short sketches in Harper's Bazaar. These sketches about a shrewd, confident, ambitious flapper tapped into the American zeitgeist and quadrupled the magazine's circulation overnight.
Employed by MGM, Loos wrote the screenplay for Jean Harlow's Red Headed Woman. The picture, completed in May 1932, was a huge hit. It established Harlow as a star and confirmed that Loos was one of Hollywood's leading screenwriters. Indeed, MGM producer Samuel Marx said of her:
"She was a very valuable asset for MGM. Because the studio had so many femmes fatales – Garbo, Crawford, Shearer, and Harlow – we were always on the lookout for 'shady lady' stories. But they were problematic because of the censorship code. Anita, however, could be counted on to supply the delicate double entendre, the telling innuendo. Whenever we had a Jean Harlow picture on the agenda, we always thought of Anita first."
Lois Weber
Another leading light was Lois Weber. She was the first woman to write, direct, produce, and star in a movie. She is regarded as one of the most important and prolific directors of the silent movie era, directing 135 films, writing 114, and acting in 100. Weber was also one of the first directors to attract the attention of the censors in Hollywood's formative years.
A true pioneer, Weber experimented with the split-screen technique and made the first sound films in the United States. She was the first American woman to direct a full-length feature film, when she and her first husband Wendell Phillips Smalley co-directed The Merchant of Venice in 1914. Furthermore, in 1917, she was the first American female director to own her own film studio.
Many of Weber's films focused on her concerns for humanity and social justice, subjects that always trouble the establishment. Along with her moral stance, her antennae were finely tuned to the commercial aspects of filmmaking; so much so that by 1920 her movies topped the highest grossing charts. They explored such 'taboo' subjects as abortion and birth control. She was aware that movies could convey a message, but also that they should entertain. With that in mind, she adapted Edgar Rice Burroughs's Tarzan of the Apes novel and produced the first Tarzan film, in 1918.
One of Weber's most notable films, Hypocrites (1915) featured the first full-frontal female nude scene. The British Board of Film Censors passed the film. However, the movie caused riots in New York and was banned in Ohio. The mayor of Boston demanded that the film's negatives should be painted over to clothe the naked woman.
Gene Gauntier
Gene Gauntier (1885–1966) was a writer, actress, producer, director, and stuntwoman. She developed the format for the serial, and wrote many of the daredevil scenes she later appeared in. She also wrote a screenplay adaptation for Ben Hur, in just two days.
Gauntier first appeared in films while acting on the stage. She recalled in her 1928 autobiography Blazing the Trail: "My funds were running low, and in a vague way I thought of the new opening for actors – moving pictures. But, like the rest of the legitimate profession, I looked on them with contempt and felt sure that my prestige would be lowered if I worked in them."
In June 1906, Biograph hired her to appear in The Paymaster. Performing her first daredevil stunt, she literally jumped into the role of a damsel tossed into a river. A year later, she became Kalem Studios's star actress and their leading screenwriter, often working in collaboration with director Sidney Olcott. In 1924, Gauntier said:
"In addition to playing the principal parts, I also wrote, with the exception of a bare half-dozen, every one of the five hundred or so pictures in which I appeared. I picked locations, supervised sets, passed on tests, co-directed with Sidney Olcott, cut and edited and wrote captions, got up a large part of the advertising matter, and, with it all, averaged a reel a week. It was work in those days – but creative work, blazing the trail. We were always discovering new possibilities and each little success or surprise fed our enthusiasm."
Women like Gene Gauntier embraced the creative chaos of the early years of filmmaking. They were multitaskers extraordinaire, contributing to every aspect of the movies. Left to their own devices, they produced films that gripped audiences. Back then, 'formula movies' did not exist. Creative imaginations were allowed to run riot.
Movies were supposed to be a passing fad. However, when films began to show a profit the money men moved in. A creative pastime became big business.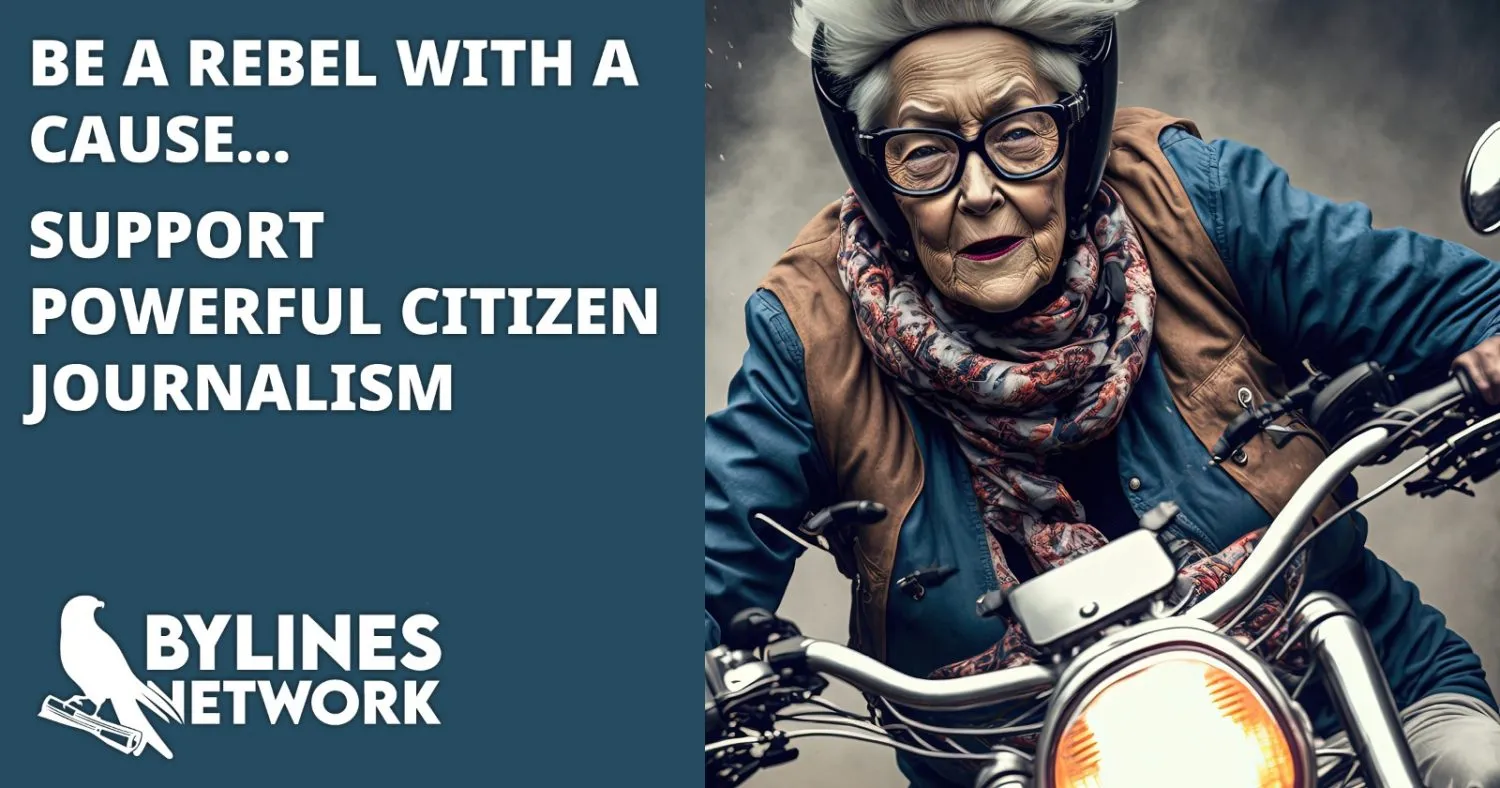 CLICK HERE TO SUPPORT THE BYLINES NETWORK CROWDFUNDER!