In 2023, the landscape of journalism in the UK stands at a crossroads, with over 80% of the newspaper market controlled by just three media conglomerates. These giants have cast a shadow over diversity, independence, and the very essence of local and democratic discourse. However, amidst the looming corporate monoliths, a glimmer of hope shines. The age of high-speed internet has empowered individuals across the UK to reclaim their voices through citizen journalism.
Within this vibrant movement, the Bylines Network has emerged as a platform for grassroots reporting and community engagement, standing out as a testament to the power of collective action. This isn't about any single citizen journalist; it's about the collective spirit of those determined to illuminate issues that resonate with many. In light of this, the seemingly minor feature of dark mode has just become a symbol of accessibility, responsiveness, inclusivity, user-friendliness, and democracy itself.
The lightness of dark mode
The Bylines Network holds up ten platforms, covering most of the UK and largely run by volunteers, on which citizen journalists can stand and tell their stories. Its commitment to its readers and contributors extends beyond words to actions, as I can attest. Through responsive communication and support of the community, something as everyday as dark mode has today become a tangible expression of enhancing reader experience and amplifying contributor voices.
So what is dark mode? It's an optional utility, usually toggled somewhere at the top of your screen on webpages, that does exactly what it says on the tin: it darkens pages, reversing black and white and reducing glow. It can reduce the blue light that interrupts sleep for yourself and others (such as on darkened airplanes), and is good for the battery life of devices. Giving a choice to readers, including on their preferences for a lighter or darker read is, I believe, always the best approach.
With the above in mind, I messaged the Bylines Cymru account on X, formerly Twitter, to suggest that dark mode be added to its site as I like to read articles before I sleep. Within 24 hours, I'd received confirmation from the Bylines Network that it would be implementing dark mode. On top of that, I was thanked for my suggestion and kept in the loop on the process of implementation.
Contributors, not content
This kind of communication and cooperation is a core component of citizen journalism, and a large part of the reason it's so effective. This isn't something that you would ever experience by interacting with the giant media conglomerates, if indeed you received any response from them at all. Communication in citizen journalism is not top-down but side-to-side. This is also a feature of equality.
My journey into citizen journalism has revealed a stark contrast between the corporate behemoths and the more intimate platforms within the movement. It's a distinction rooted in accessibility – not just to information but to meaningful interaction.
When attempting to engage with media conglomerates, you may find yourself lost in an abyss of templates and automated responses. The impersonal nature of exchanges, if any, can be disheartening; it feels like your voice is lost among the cacophony of corporate machinery. And their beyond-busy websites can be dizzying, especially for the neurodivergent. Visiting Wales Online can give you an optical migraine.
My personal experience within the Bylines Network was a revelation. Here, I was not a faceless contributor, but a valued member of a community driven by a shared passion for individual storytelling and progressive, fact-based journalism. They didn't just accept my contributions, they engaged in meaningful dialogue, providing constructive feedback and fostering a sense of collaboration.
Every voice matters
Contrast this with my interactions with media giants. I reached out to publications owned by Reach and News UK, only to hear silence. One solitary response arrived 18 days after I'd submitted a piece – an acceptance offer, which was null and void, as my article had already found its place elsewhere. The irony lies in a separate email I had sent ten days before, stating as much.
This stark divide between corporate media's indifference and citizen journalism's embrace underscores the essence of the grassroots movement. Citizen journalism thrives on genuine connections, community-driven reporting, and the belief that every voice and every reader matters. Dark mode is live on Bylines Cymru from today, and will be rolled out across the Network through this week.
In an era when the media landscape appears dominated by a select few, another form of dark mode entirely, the rise of citizen journalism is a testament to the enduring spirit of democracy. With its commitment to accessibility and community, this movement represents a beacon of hope in the ever-evolving story of journalism.
As we continue to champion the cause of diverse voices and independent narratives unfiltered by billionaires, remember that, in the age of high-speed internet, we can all choose to be a part of the solution. In the words of countless citizen journalists across the UK, let us choose to fight back, one story at a time.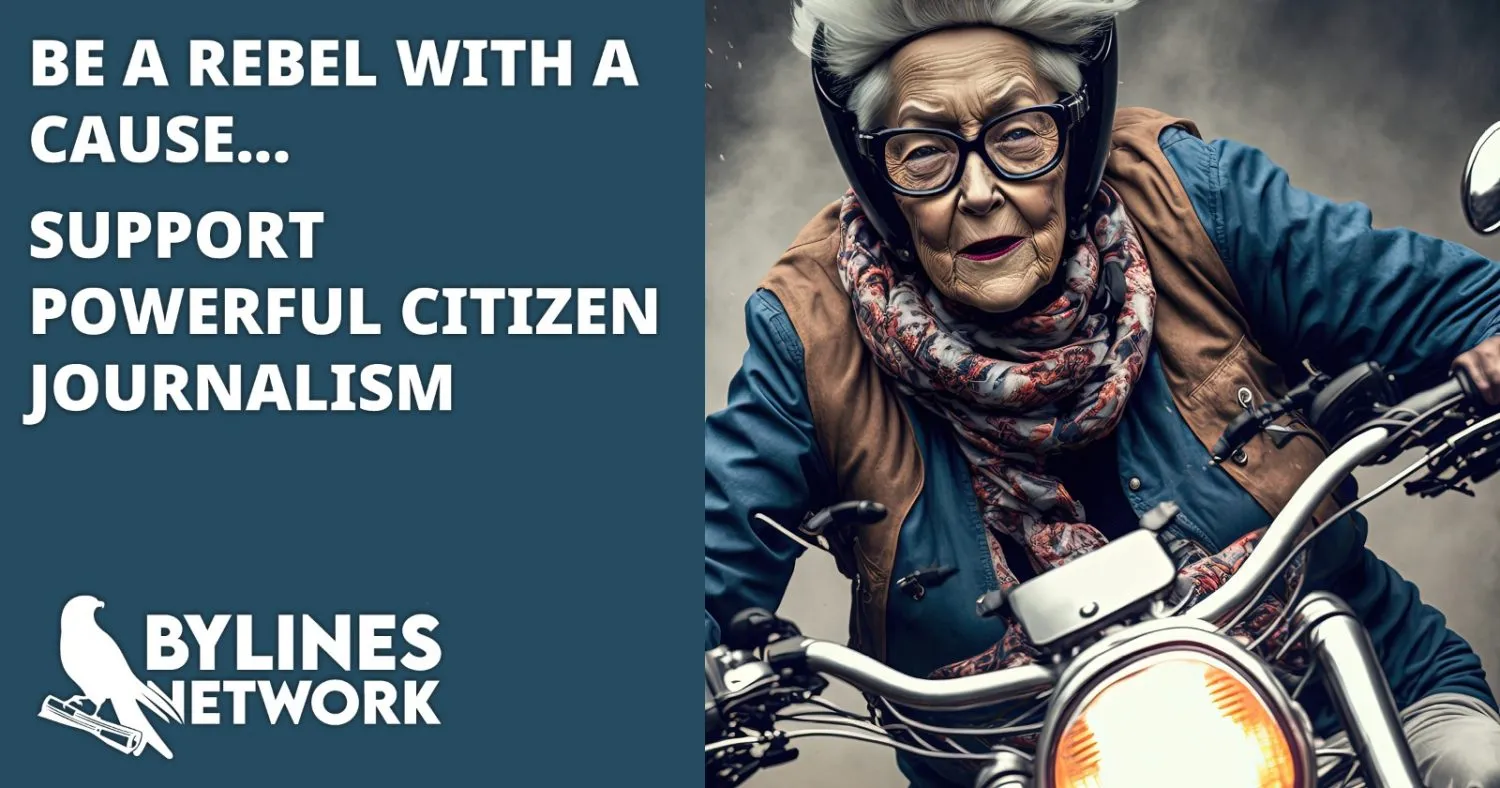 CLICK HERE TO SUPPORT THE BYLINES NETWORK CROWDFUNDER!