There's been a lot of talk recently about the UK politics around climate change. The expansion of the ultra-low emission zone (ULEZ) in London is claimed to have cost Labour a recent byelection (or saved a seat for the Conservatives, depending on your politics).
We haven't been immune here in Wales to climate controversy recently. The implementation of the default 20mph speed limit on certain roads generated a huge protest petition, and saw accusations of misrepresentation aimed at members of the UK government in the Senedd. Discussion of such topics on social media and around dinner tables showed how polarising the topic has become. It appears that climate change is the latest front in the ongoing 'culture war'.
Culture wars and climate change
The term 'culture wars' refers to intense ideological and political battles that arise within societies over deeply held beliefs, values, and norms. Often these conflicts are not merely about the practical aspects of policy but concern the fundamental identity and values of a nation or community. Topics encompassed by the culture wars can range widely – from issues related to sexuality, religion, and education to, more recently, climate change.
In the context of climate change, culture wars manifest as deeply polarized debates, often rooted in scientific data but also entangled with broader issues of economic policy, national sovereignty, and personal freedom. Opponents may view climate change mitigation efforts as a challenge to individual rights or economic growth, while proponents see them as essential for the planet's survival. This ideological entrenchment makes consensus difficult, and positions climate change not just as an environmental concern but also a battleground in a larger cultural struggle.
At this point I will declare 'my' side in the debate. Climate change is the single most pressing issue facing humanity in the 21st century. And we have singularly failed to address the impacts of our actions, with probably cataclysmic consequences for our immediate future. Removing climate change from the realm of culture war topics is crucial, especially when viewed from the perspective of medicine and healthcare.
Climate change and human health
Climate change has direct and indirect effects on human health. Rising temperatures can result in heat-related illnesses and deaths, while rates of cold-related deaths may drop with warmer winters. But these figures will likely be minor in the grand scheme of things.
Of more concern is that changes in weather patterns can amplify vector-borne diseases like malaria and dengue. Both are incredibly rare in the UK; malaria cases are currently only found in people who've travelled abroad on their holidays and caught the infection. Malaria is not currently an endemic disease in the UK.
However, a warming climate could create conditions conducive to the growth and spread of the mosquito on which malaria relies, potentially leading to the emergence of malaria as an endemic disease in the UK. And if the topic of climate change remains divisive, these health risks might not be addressed adequately or in a timely way, with huge consequences for the UK and the wider world.
Extreme weather and health
Extreme weather events such as hurricanes, floods, and heatwaves have become more severe and frequent globally due to climate change. Such events can have significant consequences for healthcare infrastructure. The world has witnessed an alarming increase in the frequency and intensity of heatwaves, and their toll on public health is becoming increasingly evident.
As rising global temperatures become the new normal, healthcare systems are grappling with a surge in heat-related illnesses and challenges that threaten to strain resources and overwhelm medical facilities. From elderly individuals suffering from heatstroke to vulnerable communities grappling with respiratory issues exacerbated by poor air quality, the healthcare system is under immense pressure.
Prolonged exposure to extreme heat can exacerbate pre-existing conditions, and studies indicate a significant increase in hospitalizations due to cardiovascular and respiratory problems during heatwaves. Vulnerable populations, such as the elderly and low-income communities, are disproportionately affected, highlighting the urgent need for equitable access to healthcare resources.
Food and water and health
In a worrying trend exacerbated by climate change, global food production systems are under siege. With rising temperatures, unpredictable rainfall, and heightened occurrences of extreme weather phenomena like droughts and floods, traditional agricultural practices are struggling to keep pace. Such disruptions directly translate to diminished crop yields, both in quantity and quality.
Recent studies indicate that extended spells of drought can herald complete crop failure. Simultaneously, surges in temperature are found to sap the nutritional content from staples like grains and vegetables. The ripple effect? An alarming dip in food availability, skyrocketing prices, and the ominous shadow of food insecurity looming over vulnerable populations.
Such dire scenarios can precipitate malnutrition, manifesting in stunted growth and heightened micronutrient deficiencies. Weakened immune systems, a consequence of malnutrition, open the door to a plethora of diseases, hampering overall health and development.
However, the perils of climate change aren't limited to our food baskets. Our water reservoirs, an indispensable lifeline, are equally threatened. On one hand, erratic precipitation patterns can lead to prolonged droughts, squeezing our access to clean drinking water. On the flip side, intense rainfall and subsequent flooding can compromise sanitation systems, turning water sources into breeding grounds for pathogens and pollutants.
The UK, despite its developed infrastructure, is not immune. Diseases like cholera, dysentery, and typhoid – ailments deemed largely eradicated from the UK – now loom large, with potential outbreaks spurred by water contamination. Such illnesses not only burden individuals with severe gastrointestinal distress but also strain public health infrastructures, with severe cases necessitating hospitalisation and posing fatal risks.
Climate-created displacement
In sum, climate change has entangled our food and water systems in a pernicious feedback loop. Disruptions in agriculture amplify food insecurity, elevating malnutrition rates. Concurrently, the menace of water scarcity and contamination, both climate-induced, magnify the risks of once-eradicated waterborne diseases, heaping further pressures on already stretched public health systems. The clock is ticking, and the call for mitigative and adaptive strategies has never been louder.
Climate change-induced displacement is becoming an alarming global trend. Whether it's encroaching sea levels swallowing coastal communities, extreme weather events forcing evacuations, or the creeping menace of environmental degradation rendering regions uninhabitable, millions are being uprooted from their homes. While immediate concerns often focus on shelter and sustenance, health implications are equally critical.
In cramped and densely populated temporary shelters, maintaining physical distance, a crucial measure during a pandemic, is often impossible. Close living quarters create a breeding ground for diseases like respiratory infections and gastrointestinal illnesses to spread rapidly.
Beyond the immediate health risks, the conditions in temporary settlements may even facilitate the evolution of new pathogens. Overcrowding, limited healthcare access, and the mixing of different populations can create the perfect storm for the emergence of novel infectious diseases.
Climate culture wars cannot be won
In the throes of intense societal debates, it's essential to remember that climate change is not a matter of belief but an empirical reality. Founded on a bedrock of rigorous scientific research, the evidence for our changing climate is undeniable.
When such issues get entangled in the divisive nets of cultural wars, we risk overshadowing facts with opinion, leading to potential misinformation and muddled understanding. The clock is ticking. Every moment spent in debate, instead of decisive action, allows the crisis to deepen. Our planet doesn't differentiate between left or right, liberal or conservative. The impact of our delayed response is felt universally, jeopardising ecosystems and human societies alike.
While climate change is undoubtedly a global challenge, it also presents a unique opportunity to bridge societal divides. Far from being an economic hindrance, addressing climate change presents a goldmine of opportunities. Transitioning to a sustainable paradigm promises innovation, job creation, and economic prosperity.
However, when viewed through the divisive goggles of cultural rifts, nations risk missing out on these lucrative opportunities. Innovative technologies which may have positive impacts on our lives and health include solar panels, battery technology, and hydrogen energy.
Climate change doesn't exist in isolation. It's intricately linked with other pressing challenges, from public health crises to food security issues. By extracting the climate debate from cultural war arenas, we can cultivate comprehensive, compassionate strategies that address multiple societal challenges in tandem.
Our actions, or the lack thereof, will echo in the lives of generations to come. As custodians of Earth, we owe it to our descendants to ensure they inherit a planet that's habitable, thriving, and resilient. This responsibility should, without a doubt, surpass any fleeting cultural or political disagreements.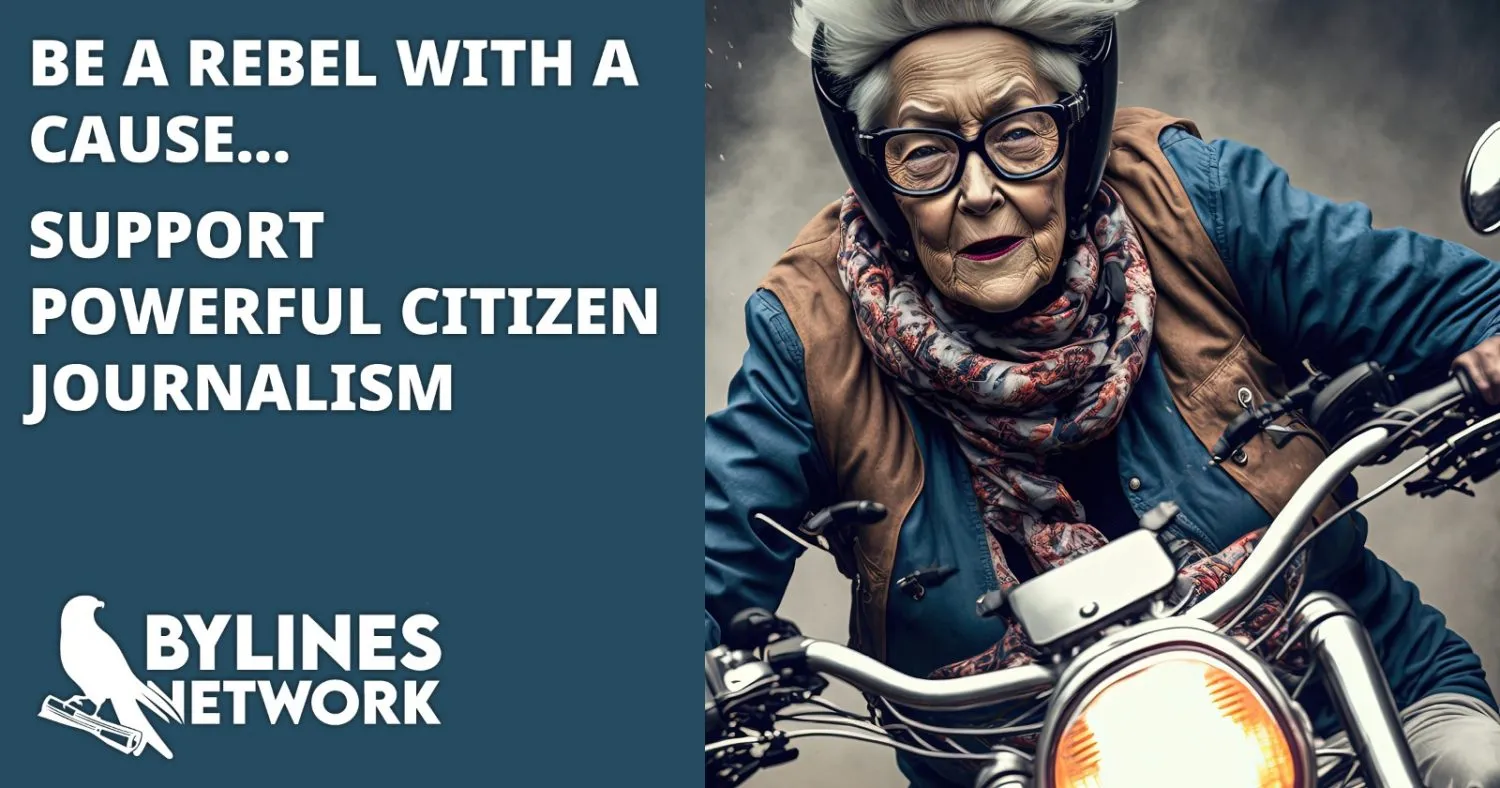 CLICK HERE TO SUPPORT THE BYLINES NETWORK CROWDFUNDER!