Who should benefit from Wales's abundance of water? It has been a long and heated debate. In recent years this has been heightened by cries from some quarters that Welsh waters should be sent to London and the South East of England. This is not a new vision, but it stirs up dark memories for many Welsh people.
I will explore the past to see how we ended up in this situation. I'll look at the present state of our polluted rivers and seas, and why we are paying sky-high water prices in Wales. Then I offer my vision of a better future.
Welsh waters past
Cofiwch Dryweryn, Remember Tryweryn. These words have somewhat transcended the Welsh zeitgeist by now. You see them on t-shirts, bumper stickers, and in the comments sections of social media posts about Wales on an almost daily basis. As a student at Aberystwyth University, I was lucky enough to pass the original graffiti on a ruined cottage wall in Ceredigion fairly often.
The controversial drowning of the Welsh-speaking village of Capel Celyn in 1965 was done to provide water for Liverpool, despite many protests, and not one of the 36 Welsh MPs at the time voting for it. This story is reasonably well-known by now, so I won't dwell on it or the events that surrounded it. For those interested in more details, many articles and programmes exist about it. I recommend the podcast Drowned, currently available on BBC Sounds.
However, despite being the best known, this wasn't the first time that flooding part of Wales was seen as a convenient way to provide water to major English cities. The Elan Valley reservoirs, for example, were created to provide water to Birmingham. The first flooding took place in 1896. They were opened by King Edward VII in July 1904.
Other areas were flooded over the decades that followed, due to the expansion of this project. Queen Elizabeth II was present to open the Claerwen reservoir in 1952. Plans to expand it on an even vaster scale, which would have flooded many miles of Mid Wales, were scrapped in the 1970s. "Environmental issues" were cited as the reason. People living in the area were not compensated at all, aside from wealthy landowners.
Before all of this, there was also the village of Llanwddyn. It was drowned in the 1880s, also to provide water for Liverpool, despite villagers not being consulted over the plans and opposing it. Maybe the fact that these instances happened largely outside of living memory and without media coverage, unlike Capel Celyn, and before universal suffrage (of sorts), mean they hold less importance in Welsh people's minds. Or they simply aren't aware.
Given current debate about using Welsh waters for London, we must remember that this was also planned in the 1800s. Engineer Sir Alexander Richardson Binnie, on behalf of London County Council, threatened to drown a huge area of South and Mid Wales. His plan, published in 1898, included a 168-mile-long aqueduct to take water from South Wales to London. Support was given for the plan in the House of Commons and it reached the committee stage.
It was eventually rejected, but not because it would drown much of Wales and affect tens of thousands of people living in what would have been the flooded areas. Unsurprisingly, most English MPs didn't care less about Welsh people far away; I would argue that many still don't. It was in fact rejected because they thought it was too costly and would take too long to be completed. It wasn't planned to be finished until 1945.
It makes me think of that famous Michael Sheen speech about Wales's relationship with the UK, in which he says, "Make us into a theme park." It may have been more correct for him to have said, "Make us into one giant reservoir"! Ignoring Welsh people's concerns, or simply not thinking they deserve to have a say about the land and natural resources among which they live, is nothing new.
Welsh waters present
Let us now look at the current state of Welsh waters. Despite our abundance of rain (whilst typing this I can hear the rain smashing away at my roof in Cwmbran), and the fact we currently export around 214bn litres of water a year into England, we in Wales pay the second highest average household yearly water price in Britain (£499).
Many of our rivers are amongst the most polluted in Europe, never mind the UK. Rivers like the Usk and the Wye are suffering badly from pollution from mega poultry farms, for example. The water companies operating in Wales regularly dump raw sewage into our rivers and seas. So-called 'storm overflows' (it's Wales, it rains a lot) destroy local water systems. Only 40% of rivers in Wales meet the criteria for good ecological status.
Behind where I live in Cwmbran is the Dowlais Brook. During rainy periods you can go and witness the raw sewage being pumped into it. It's horrible: this is a place where people go walking and take their dogs to swim. Some people even used to fish along it. Now it's often a biohazard full of sewage and dead fish.
If you contact the local council about it, they offer no warning as to when these storm surges occur. It's treated as if this is a normal state of affairs. Surely local residents should be informed every time this takes place so they can avoid the area? Surely they're avoidable?
Let's be clear: the privatisation of water since 1989 has been a disaster. Even the most ardent free market capitalist must accept that you cannot privatise an industry where there is no possible competition – it's not like you can change who is providing the water to your house – and which is essential for people's survival.
I often have to correct English friends, and indeed some Welsh friends, who think we already have public ownership of water in Wales. There are actually two water companies providing drinking water and handling waste water in Wales. Hafren Dyfrdwy is owned by Severn Trent, and Dŵr Cymru (Welsh Water) is nominally run by a private not-for-profit company, Glas Cymru.
I question the 'not-for-profit' bit, given that it has handed millions of pounds in 'performance related bonuses' to its executives over the last few years despite dumping ever more sewage into our waterways and seas. In 2021 Dŵr Cymru had the highest number and duration of sewage discharges of all UK water companies. What incentive is there for them to spend money improving infrastructure, when they can just skim the money for themselves?
The regulator Ofwat named Dŵr Cymru among the six worst-performing water firms. It failed to meet its pollution incidents target, and was criticised with regard to drinking water standards, water quality, and water supply interruptions.
Welsh waters future
As a member of the Green Party, I believe firmly in grassroots democracy. It's a founding pillar of the party. Decisions that affect the lives of residents of Wales need to be made in Wales. It's clear that the current water system is not working for the people of Wales, and that it needs to be brought into public control. It should be run for the benefit of the people living in Wales, with any profits ploughed back in.
The status quo is a disaster, both for nature and for all of us living in Wales. We currently face many problems in our nation. Some 34% of our children are growing up in poverty. Given the history of exploitation of a number of natural resources in Wales, including water, which has not benefited the people of Wales, it's not radical to call for much-needed payments. Even a small payment from the UK Government of, let's say 1p per litre of the 214bn+ litres we export each year, could make a real difference.
It's not radical to suggest we should not be paying these ridiculously high water prices in Wales. It's not radical to demand that sewage systems are updated to ensure that this dumping of sewage into our vital water systems ends.
So yes, the spirit of Cofiwch Dryweryn is alive and all well and good. But more importantly, let us change the status quo and bring water under public ownership in Wales. The only way to ensure we are no longer ignored by Westminster when it comes to decisions made about our natural resources is to leave them out of it.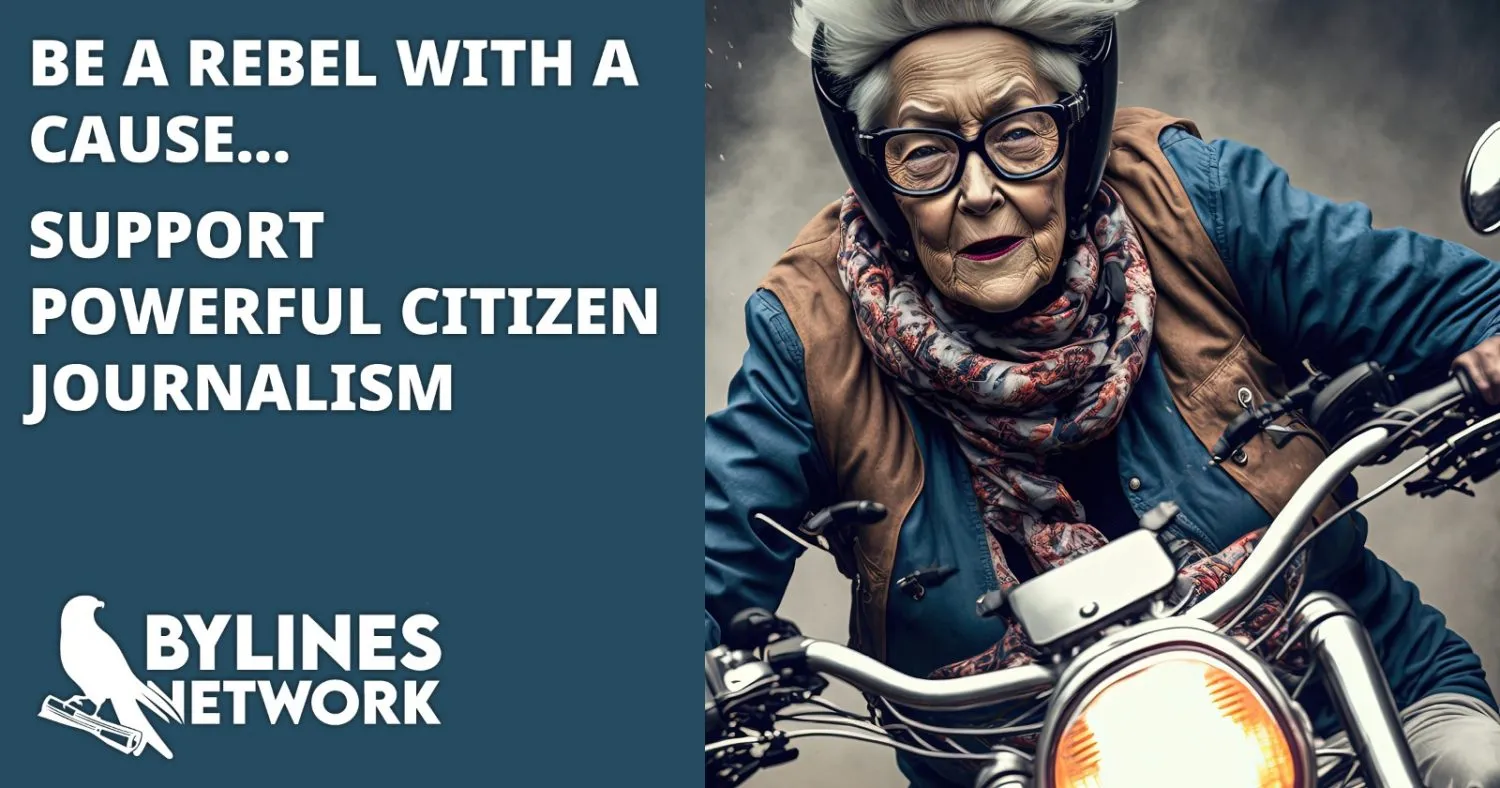 CLICK HERE TO SUPPORT THE BYLINES NETWORK CROWDFUNDER!