Jen dw i, yn byw yn Utica, Efrog Newydd, yn Unol Daleithiau, gen achur niwrological. Pan on yn yr ysbyty, mi wnes i dechrau fy taith yn dysgu Cymraeg ar ôl gwrando y fideo ble mae person tywydd Liam Dutton yn dweud y gair descrifio ar y dref ar Ynys Môn:
Roedd hi'n Mis Medi 2020. Rŵan, mae hi'n 2023 a dw i'n fod yn ymarfer pob dydd. Mae gobeithio gen i.
Yn anfoddus, mae rhywbeth drwg yn dygwiddiad weithiau. Mae siaradwroedd Cymraeg trio i digalonnaf dysgwroedd newydd, hafal fel dilynwr gwyllt o ffilmiau, llyfrau, cerddoriaeth, chwaraeon, ac at; yn Saesneg: "gatekeeper".
No Kitty!
Maen nhwn atgoffa fy ar Cartman gan y rhaglen South Park pan on o dweud, "No kitty, that's my pot pie!" Neu y dyn cawl gan Seinfeld os yn dweud, "Dim cawl i chi!" Dim Cymraeg ar gyfer fi? Paid i dweud 'na.
Mae roedd weithiwr gan app Cymraeg enwog pwy sy'n ysgrifennoedd fi: "It's difficult for people outside Wales (to compete for the Welsh Learner of the Year Award) because to be honest, as part of what they are looking for, is how you're using your Welsh to contribute to society." Roedd y subreddit r/Wales banio fi achos wnes i bostio fy fideo fy sioe Welsh Made Easy With JenX, dweuddod fy sioe yn "low quality".
Dw i'n dal ati. Pam?
Mae'r iaith yn hardd iawn a dw i'n mwynhau iawn siarad, canu ac ysgrifennu'r iaith o'r ddraig goch. Mae siarad yn Cymraeg yn medru helpu fi meddwl. Does dim ot's pam dach chi'n dysgu yr iaith. Does ddim angen tuelu, partner, gwraig, gwr, neu cariad i dechrau. Dim partner gen i. Does dim agnen siarad Cymraeg dim ond am y gwaith neu dim ond i un person. Does dim ots i chi ddim yn byw yn Cymru. Rhaid i chi angen byw yn yr Eidal i dysgu Eidaleg?
Dysgu achos dach chi hoffi o. Siarad achos dach chi mwynhau o. Mae'r iaith yn helpu fi gan fy achur niwrological, fel dw i'n descrifio yn y fideo 'ma. Diolch yn fawr i Doctor Cymraeg yn ysgrifennu am o hefyd, ac ar gyfer cael I fi ocei I defnyddio'r llun yn y stori 'ma. Dw i'n fod gobethio mwy pobl bydd yn teimlo mor.
Gatekeepers
Mae'r gatekeepers iaith yn mor bai fel pob y Dic Siôn Dafydd pobl. Pam stopio dysgwyrydd newydd? Mae costio ar ddim i fod yn caredig. Mae Cymraeg ar gyfer pawb, a mae'r iaith yn hardd iawn.
Dw i'n teimlo trist achos yn y rhannau llyfr teithiau mewn siopau llyfr o gwmpas yma paid i stocio llyfrau am Cymru. Mi gen ni diaspora pwy sy'n des i yma i fy rhan o Efrog Newydd o Cymru tua cant blynedd eto. Mae fy hiraeth yn gen i yn llawer. Dw i eisiau rhannu fy joio i'r iaith Gymraeg hardd gan bobl arall. Mae dysgu Cymraeg yn helpu fi topaf gan fy achur niwrological a gweithio i helio ei fy hun fel dw i'n gallu dechrau fy byw eto ar ôl y sal yn stopio fy bod yn gallu gweithio ledled y deg blynedd diwetha.
Dw i'n goebithio fy sioe Welsh Made Easy With JenX yn fynd firal a bod helpu Cymru cyrraedd miliwn siaradwrydd. Dim gatekeeper bydd yn stopio fy yn dysgu'r iaith hyfryd a cŵl sŵndio. Dw i'n caru hi gormod i stopio, felly pam?
Dw i'n gobeithio mynd i Gymru un dydd, a siarad yr iaith dw i'n caru i'r pobl o Gymru, o'r galon. O, ac efallai ffeindio partner un dydd pwy sy'n gallu siarad Cymraeg … efallai? Cymru am byth ac Cymraeg ar gyfer pawb!
Welsh is for everyone!
I'm Jen, living in Utica, New York, in the United States, with a brain disease. When I was in hospital, I started my journey learning Welsh after listening to the viral video where the weather presenter Liam Dutton says the descriptive name for a town on Anglesey.
It was September 2020. Now, it's 2023 and I still practice everyday. I have hope.
Unfortunately, something bad sometimes happens: Welsh speakers try to discourage new learners, like obsessed, controlling fans of films, books, music, sports, in other words: 'gatekeepers'. They remind me of Cartman in South Park when he says, "No Kitty, that's my pot pie!" Or the Soup Nazi character from Seinfeld who says, "No soup for you!" No Welsh for me? Don't say that.
There was an employee from a famous Welsh language app who had written me: "It's difficult for people outside Wales (to compete for the Welsh Learner of the Year Award) because to be honest, as part of what they are looking for, is how you're using your Welsh to contribute to society." The Subreddit r/Wales banned me because I posted a video of my show Welsh Made Easy With JenX, calling it "low quality" and complaining that I posted my own content, while allowing others to self-promote without question.
I keep on keeping on. Why?
The language is very beautiful and I enjoy speaking, singing, and writing the tongue of the red dragon. Speaking in Welsh helps me with my ability to think. You don't need a partner, wife, husband, or family member to start. I have no partner. You don't need to speak Welsh just at work or just for one person. Do you need to live in Italy to learn Italian?
Learn because you like it. Speak because you enjoy it. The language helps me cope with my neurological disease, as I describe in the video above. Many thanks to Doctor Cymraeg for writing about it too, and for allowing me to use his meme in this story. I hope more people will feel this way.
The language gatekeepers are as much to blame as the Dic Siôn Dafydds. Why stop new learners? It costs nothing to be kind. Welsh is for everyone, and the language is very beautiful.
I feel sad because the bookshops around here don't stock books about Wales. We have a large diaspora who came here to my part of New York from Wales about a hundred years ago. My hiraeth is strong. I long to share my enjoyment of the beautiful Welsh language with other people. Learning Welsh helps me cope with my neurological disease as I work to re-invent myself, so I can start living again after illness stopped me from being able to work for the last ten years.
I hope my show Welsh Made Easy With JenX goes viral and helps Wales reach its goal of a million speakers. No gatekeeper will stop me from learning the beautiful and cool-sounding language. I love it too much to stop, so why?
I hope to go to Wales one day, and speak the language I love to the people in Wales, from the heart. Oh, and maybe find a cariad with whom who I can speak Welsh … perhaps? Wales forever and Welsh for everyone!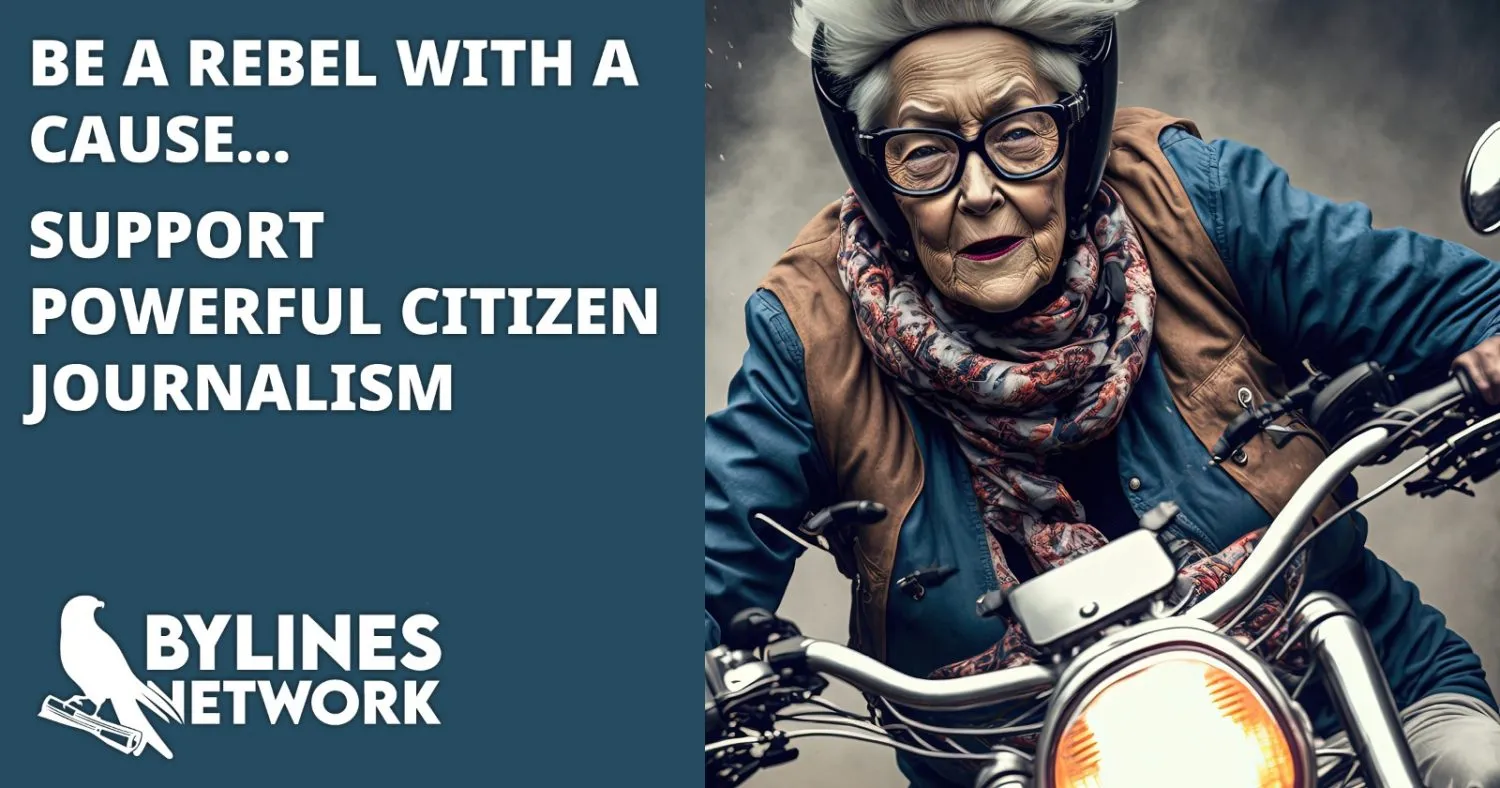 CLICK HERE TO SUPPORT THE BYLINES NETWORK CROWDFUNDER!