The recent banning of the GB News channel from Welsh Parliament (Senedd) internal TV systems caused a considerable backlash. This was despite it being stated that "staff and members who wish to view GB News will still be able to do so online in the Senedd."
The channel's name seems designed to suggest to viewers that it's a news channel. But it also claims to be a talk show channel, thereby skirting impartiality rules governed by the broadcasting regulator that news channels are expected to follow. Tellingly, only Welsh Conservatives complained about the ban.
To be news or not to be news
Aside from its name, the production style, interviews, and commentary of GB News are also produced to look news-like. However, it does not follow Ofcom regulations for UK news programmes or commit to the same standards as other news output.
Yet Ofcom itself seems out of its depth, wary of holding the channel to account as it would BBC, Channel 4, Sky, and ITV. Is this because the channel hosts multiple Conservative MPs, and supports the government's wedge issues and culture wars? Is Ofcom afraid of political backlash from the UK government if it comes down on GB News too hard?
Ofcom CEO Dame Melanie Dawes got tied up in knots when questioned by John Nicholson MP of the Digital, Culture, Media, and Sport (DCMS) Committee on the number of GB News programmes hosted by sitting MPs. He said Ofcom rules are "very clear": no politician can be used as an interviewer or reporter "unless editorially justified", so GB News is in breach of news broadcasting rules. Nicholson added that the issue was a vivid example of the "creeping politicisation of news channels".
With a bit of searching, I found the licences given to GB News by Ofcom itself. As you can see, their permissions are clearly stated as being for 'news'. Why would Dawes not know this?
Those are the facts
A few days after the Senedd announcement, Conservative MP and Leader of the House of Commons Penny Mordaunt brought up the GB News ban in the UK Parliament. She said, "Those are the facts, Mr Speaker, but I can understand why Labour doesn't like them, which is perhaps why they have chosen to ban some news programming." Many X/Twitter users thanked her for confirming it's 'news', contrary to Ofcom's stated belief that it isn't, despite having granted it licences for 'news'.
The decision to remove the channel from Senedd building TVs was actually taken by the Senedd itself, instigated by Plaid Cymru member Elin Jones, not Labour. But facts don't seem to matter to Conservative politicians nowadays. They're happy to lie with impunity regarding Labour's policies or anything else to gain political capital.
In a Sky News interview Calvin Robinson – recently fired as a presenter from GB News – admitted the station "shouldn't be a news channel", as it's commentary. Ben Leo, a GB News producer, said "Tories are furious" that the "right of centre" "news" station had been taken off the air in the Senedd.
Conservative politicians are never livid when anyone mentions defunding the BBC or taking Channel 4 off the air, because those channels hold them to account. But GB News is a perfect fit for them, often backing up and promoting their culture war propaganda. Yet GB News engages in conspiracy, misogyny, and bigotry.
Despite its apparent squeamishness, Ofcom has anyway run, and is still running, multiple investigations into GB News. Of those completed, breaches have been declared of rules within the Broadcasting Code.
Evidence of bias and partiality
Rule 5.3 prevents politicians from acting as newsreaders, interviewers, or reporters in news programmes unless editorially justified. Rule 5.1 requires news to be presented with due impartiality. Rules 5.11 and 5.12 require that an appropriately wide range of views must be included and given due weight.
You only have to watch GB News a few times to realise they often break such rules. There are too many incidents of disinformation, bigotry, and bias to list in full; here are a few examples.
The reason cited for its withdrawal from the Senedd was that presenters Dan Wootton and Laurence Fox attracted 7,300 complaints to Ofcom. Fox insulted journalist Ava Evans, asking what "self-respecting man" would "climb into bed" with her. Wootton laughed along. This glaring misogyny depicts women as sexual objects whose worth is judged purely on whether they're 'shaggable'. Imagine if Channel 4 presenters did this? It's inconceivable.
GB News breached impartiality rules after Chancellor Jeremy Hunt was interviewed about his upcoming budget by (married) MPs from his own party, Esther McVey and Philip Davies. Ofcom ruled that no alternative viewpoints to those of the Conservative politicians were presented. (Well, they wouldn't, would they?)
The channel hosted Naomi Wolf, a famous conspiracist who made unopposed claims that the Covid vaccine rollout amounted to "mass murder", comparing it to "doctors in pre-Nazi Germany". A Mark Steyn show 'presented a materially misleading interpretation of official data without sufficient challenge or counterweight, risking harm to viewers'.
Neil Oliver, who presented climate denialism and vaccine scepticism, had to resign from the Royal Society of Edinburgh, an organisation for esteemed academics. A spokesperson said "his current views on various matters, widely aired on television, put him at odds with scientific and broader academic learning within the Society".
Far-right tropes and culture wars
This is how GB News operates. It confuses opinion with fact and bolsters the murky post-truth society the far right has nurtured and thrives in.
GB News strongly supports narratives of the Conservative Party and hard-right populism. It openly indulges in culture war campaigns on trans rights, climate change denial, net zero, vaccines, and migration. It does this not to inform but to inflame. That's not what a news channel is.
Byline Times has published some outstanding, well-researched articles on GB News. It reported that presenters make nods to far-right tropes more commonly found on Telegram and 4chan. These include the racist 'great replacement theory' – that mass migration and differing birth rates are 'replacing' British culture – and antisemitic conspiracies about the World Economic Forum, George Soros, and a 'globalist elite'.
Look deeply into the funding of GB News, and you'll find murky links there, too. Ask yourself why overseas entities and investors would roll £60mn into creating what they see as a British Fox News.
News broke this week that Boris Johnson will join GB News. Does that not say it all? If its programming can't stand up to standards of impartiality and decency, wait until you hear about its staff.
The best people
At least five men employed by GB News faced allegations of sexual impropriety, including an accusation of rape by a colleague. One is GB News CEO Angelos Frangopoulos, alleged to have sexually harassed an employee. That matter ended with a non-disclosure agreement and five-figure payment.
Dan Wootton, now sacked over the Ava Evans incident, is accused of a string of shocking catfishing stings in which he hid behind fake online identities to trick and bribe men into gaining compromising sexual material. Byline Times broke this story after a three-year investigation by journalists who'd previously worked with Wootton.
Sadly, we now live in a world where opinion is often taken as fact. We've become so polarised that many will support and condone any behaviour, language, or views from what they consider 'their side' no matter how despicable or cruel. Soundbites and rhetoric are overtaking critical thinking and research, proven truths constantly under attack.
There's no denying GB News is useful to the hard right of the Conservative Party. Aside from Mordaunt, after the Fox-Wootton scandal Priti Patel praised her "friends at GB News" at a Conservative dinner. We don't hear her praising other channels. She surely does so because it platforms and informs the government's manufactured culture wars.
Hard-right populism has indeed brought us a type of warfare. It's a war on empathy, liberalism, truth, and kindness. The job of news channels is to analyse and inform with balance. That isn't the GB News agenda. It's not impartial. Its purpose is to drive fear, mock, belittle, confuse and, above all, keep us divided and inflamed. It needs to be labelled for what it is, and that's certainly not news. Why air it in the Senedd?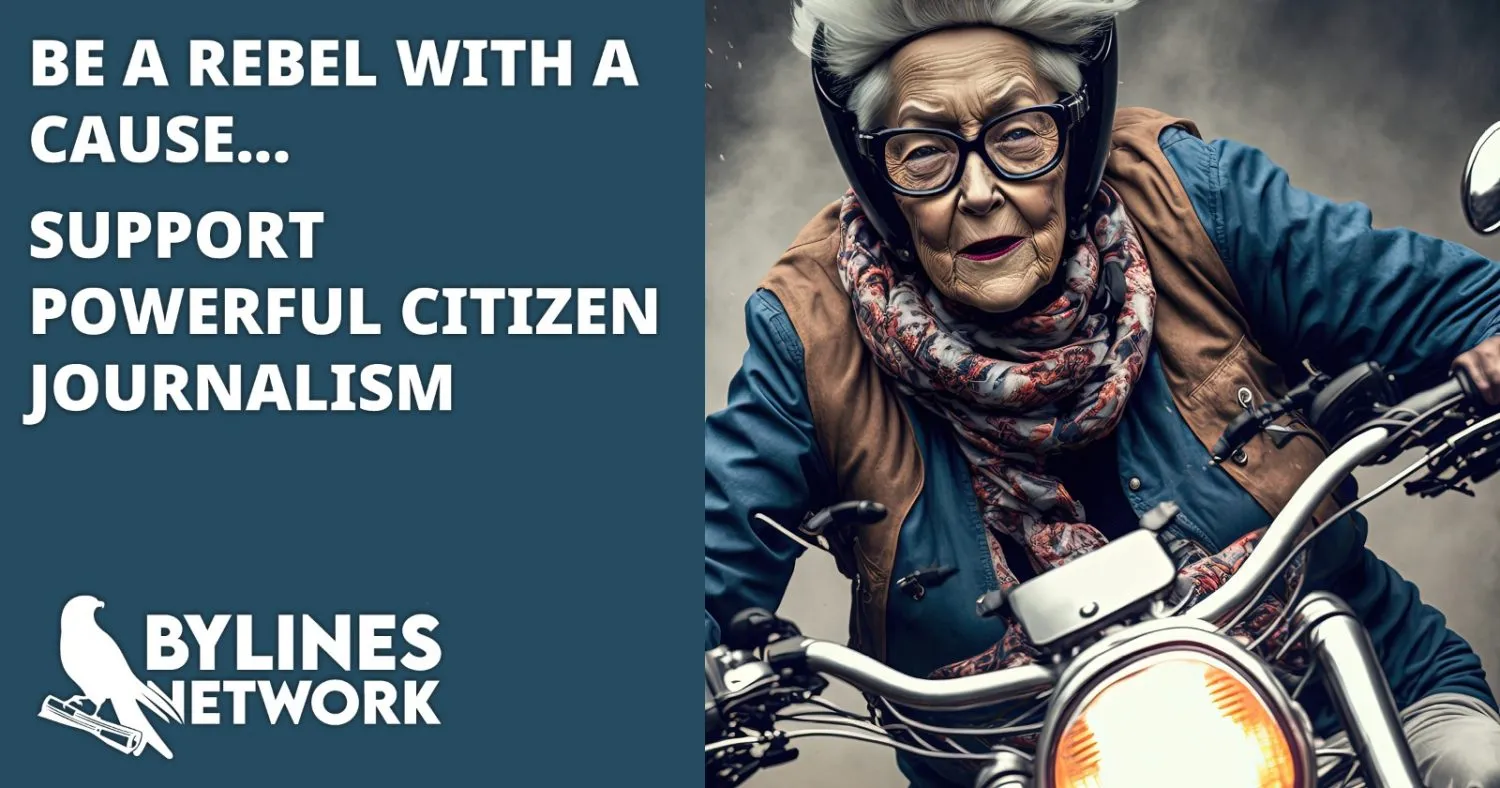 CLICK HERE TO SUPPORT THE BYLINES NETWORK CROWDFUNDER!