Rishi Sunak became Prime Minister last year via the votes of perhaps 0.2% of the population and also those of unknown foreign elements. In his first speech as PM, he pledged to make integrity, professionalism, and accountability in government the foundation of his leadership. So how's that going for you?
There are many supposed checks, balances, and quality controls in the UK's 'system' of democracy. But like so much else in our unwritten constitution, they rely on goodwill, good faith, and propriety to work effectively. If matters of governance aren't to your satisfaction, or you have questions, there are any number of politicians and public bodies, including regulators, that you can contact.
Until last year, I'd never submitted enquiries or complaints. I didn't start doing so because I began writing political journalism in 2022. I did both for the same reason: I was aghast at what I saw happening, and sought accountability and improvement. I submitted queries and concerns in a personal capacity, as is my right, writer or not. It's the lack of integrity, professionalism, and accountability in the responses, or failures to respond, which leads me to write about them now.
The BBC and the IEA
Much has been written about the Institute of Economic Affairs (IEA), including its opaque funding, the right wing American nature of its known funding, and its entanglement with and even control over Westminster and the UK government. The IEA was rated by the Who Funds You? campaign for 'think tank' transparency as among the most opaque. The IEA complained to Ofcom after the LBC broadcaster James O'Brien described it as funded by "dark money", "of questionable provenance, with dubious ideas and validity", and a "hard-right lobby group for vested interests".
In August 2021, Ofcom ruled that O'Brien had not distorted the facts. It agreed the IEA was offered a right to reply, as he said: "I will be happy to offer a full right of reply to anybody who has just been mentioned. As long as they tell me who funds them." Asked about Ofcom's acceptance of O'Brien's characterisation of the registered 'education' charity, a Charity Commission spokesperson said: "We are aware of the Ofcom ruling. We cannot comment further at this time."
On 19 May 2022, SNP MP Alyn Smith was on the BBC Question Time panel with Emily Carver, former Tory MP adviser and the IEA's Head of Media. Three of the five on that panel were Tory-linked. Smith took the opportunity to raise concerns: "Well, if we're talking about transparent sources of finance, I do hope we can start with Emily's organisation and that transparency of who we're all representing tonight."
Carver replied: "We welcome when donors would like to say they fund us or donate or give to our charity … I am sat here on a panel as myself, representing my organisation, representing the fact I'm an economist at Conservative Home and also representing the fact I've done my research on many issues."
This raised two concerns for me. I asked the BBC who precisely Carver was speaking for. If she was there in her own capacity, how was she relevant? If there for the IEA, how was this 'educational'? And why, in an era of Russian sanctions, were they platforming someone with unknown funding? I asked them to guarantee there was no Russian or other unlawful funding involved or, if they couldn't, to explain why they gave airtime to people who might be so funded.
As you can see, the response, while polite and timely, was slippery and didn't answer the questions. "We know their funding's opaque" is hardly a reasoned justification. I appealed to Ofcom, but got no response.
The BSB and Braverman
In late October 2022, I read about the Manston Asylum Processing Centre, and that Home Secretary and barrister Sue-Ellen Braverman was warned people were detained for unlawfully long periods. She was advised that the legal breach must be resolved urgently by rehousing people elsewhere, but didn't take action.
I wrote to the Bar Standards Board (BSB), which regulates barristers and specialised legal services in England and Wales in the public interest. The BSB Handbook sets out standards that those it regulates must comply with for it to meet its regulatory objectives. It's my view that Ms. Braverman breached three Core Duties (CDs):
CD3: You must act with honesty, and with integrity.
CD5: You must not behave in a way which is likely to diminish the trust and confidence which the public places in you or in the profession.
CD8: You must not discriminate unlawfully against any person.
I received no reply until a letter arrived in late January, dated 18 January.

If a barrister isn't acting as a barrister, they're not bound by standards expected of one? This doesn't bring the bar into disrepute? What if they commit fraud, assault, or murder? This response makes a nonsense of the rule of law and maintenance of standards. Change the context and you don't have to do anything. (Mind you, I'm not the only one disappointed in this 'regulator').
Someone who doesn't pick up dog poo can be fined, but water companies fill rivers and seas with sewage. Let's not even start on 'partygate', or taxes, or corruption. Someone I once knew was disbarred for faking a reference; she wasn't acting as or applying to be a barrister at the time.
The Charity Commission and the IEA
The IEA is a registered charity for the stated purposes of education, yet appears to do little that's recognisably educational or, as charity law requires, for the public benefit. It argues against having a minimum wage and calls raises for public sector workers unaffordable, while giving its own employees eye-watering pay increases.
In 2018, Private Eye reported that the Department for Exiting the European Union held more meetings with the IEA than with the car industry. In 2018, the IEA acknowledged receiving funding from BP annually since 1967, and IEA director Mark Littlewood told an undercover reporter that BP uses access facilitated by the IEA to lobby ministers on everything from safety and environmental standards to tax rates. In May 2022, the IEA argued against tax increases for fossil fuel firms while BP announced record profits from energy price hikes. So educational.
The Charity Commission examines whether a charity's trustees comply with their legal duties and responsibilities. I wrote to it on 30 September 2022, saying the IEA was in breach of its duties and operating outside its charitable purpose. My main concern was that the IEA brought the Commission into disrepute. I received no reply, and chased the Commission on 11 October. I got an acknowledgement on 28 October. There was then radio silence until I chased them on 15 March. This prompted an email reply on 4 April, over six months after my submission.

I find it subtly rude, not only because it contains no apologies for the delay. And it gives no reasoned justification for the decision, which is contrary to public law, and simply contemptuous. It's not only the IEA bringing the Charity Commission into disrepute, as it turns out.
I suppose I shouldn't be surprised at receiving that from a 'regulator' headed by a man who was a Tory party candidate and himself founded yet another right wing 'think tank'. Last week, Orlando Fraser warned actual charities which expressed concerns about Braverman trafficking asylum seekers to Rwanda to "stay out of politics".
Then there's the foot-dragging and stonewalling by the House of Commons Speaker and the Metropolitan Police regarding drugs in Parliament. The lack of response by the PM to my reasonable queries about Boris Johnson, still.
When you can't rely on the government to honour codes of conduct, or afford to seek judicial review of public law breaches, what's left? A second tier of bodies with their own standards and codes that you hope might provide a line of defence. But in my experience, this line too has been breached, stuffed with people who can also be relied on not to act with integrity, professionalism, or accountability.
Attempts to seek compliance and accountability have just led to dead ends, to further evidence of a captured state. To long waits and wasted unpaid time. The fish rots from the head, but the rot eventually reaches the tail. The PM's promise was yet more epic gaslighting.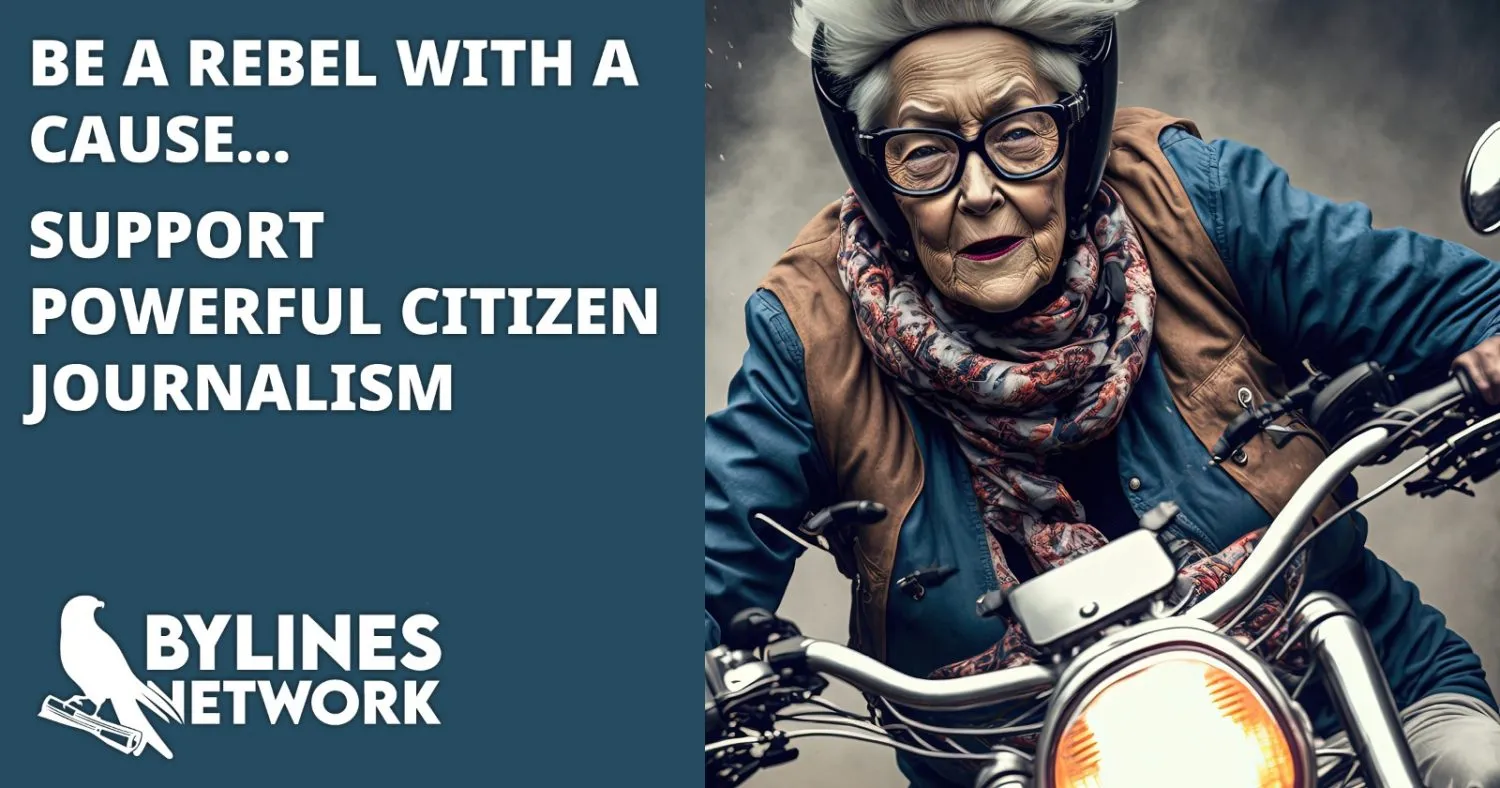 CLICK HERE TO SUPPORT THE BYLINES NETWORK CROWDFUNDER!