People in the UK are rightly discussing many state institutions, norms, and processes which no longer seem to operate as they should. This can be complicated by not being sure how they're actually supposed to work. The Crown serves as a prime example.
The gradual entrenchment of democratic structures and ideals but without deposing the monarchy has led to an odd dynamic, almost a form of magical thinking. The monarch is still nominally head of state, the sovereign, retaining many historic powers and duties. Most are said to be purely symbolic or ceremonial, so as not to interfere with representative democracy, ministerial power, or parliamentary sovereignty. But are they?
The Crown is seemingly a Schrödinger's Hat: defended as being the last bulwark against a tyrannical government, while simultaneously being unable to wield any power to stop a tyrant lest it itself be accused of tyranny. Or is it? Because there's so much we 'subjects' aren't permitted to know, despite funding much of it.
The Sovereign Grant
The sovereign's powers are limited in practice to such functions as appointing and meeting weekly with the prime minister of the day, bestowing honours, and being the ceremonial head of the armed forces. They nominally retain the royal prerogative, the position of primary executive power, as reflected by the final stage of any new legislation being the Royal Assent. However, this hasn't been withheld since 1707.
The British sovereign has the power to dismiss a prime minister, but last did so in 1834. (Unless we count Australia: see further below).
This symbolic edifice is supported financially by UK taxpayers via the Sovereign Grant, the cost of which increased dramatically in 2019 and again in 2021, when it was £87.5mn for a year. A major cause of the latter increase was the funding of renovation work on utility systems, asbestos removal, and disabled lifts installation at Buckingham Palace. Not, I imagine, having to deal with reinforced autoclaved aerated concrete (RAAC).
The UK government announced in July that it plans to raise public funding of the monarchy yet again to £125mn from 2025, an increase of 45%. Is this in line with inflation? I thought there was no money for that? (The Sovereign Grant is, rather absurdly, pegged against the Crown Estate, the profits from the family's national property portfolio, including enormous holdings in Wales).
What is it that we're paying ever more money for? And do we even want to?
It's a royal knockout
In May 2021, a YouGov poll found UK support for the monarchy had fallen to 61%, with 24% against. It identified a particular rise in republican opinions and calls for the monarchy's replacement by an elected head of state among 18–24 year olds. Age continues to be the largest factor in determining support or otherwise, with those over 65 being keenest to retain the Crown. At the time of coronation of King Charles, support and interest had fallen to an historic low.
Given this trend, and the amount paid to support the institution, it seems likely that the democracy-minded might have two, somewhat conflicting, views about 'the Royals'. Be a bulwark against the actual tyranny and uselessness of the current government; if you don't, what are you actually for? And in all other ways, as a relic of a long-ago undemocratic stretch of history, remain politically neutral while representing us appropriately.
But the Crown has neither been politically neutral nor done anything, publicly at least, to stem the growing tide of fascism, disorder, death, desperation, and division brought about by the Tories over more than 13 years. Not even when PM Boris Johnson illegally prorogued Parliament, or breached international law.
Charles, while still prince, happily read out his mother's speech in Parliament last year while sat on a gold chair dressed in gold in front of a gold wall as Unicef fed some of the many hungry children of Britain. It was proper Dickensian.
Excuse me, there's a royal in the lobby
In 2020, Emeritus Professor Jenny Hocking of Monash University in Australia won a lengthy court battle to access decades-old correspondence between the Queen and her representative in Australia, Governor-General Sir John Kerr. The 1975 dismissal of then-prime minister Gough Whitlam and his government by Kerr was the only time in the country's history that an elected government was brought down by an unelected representative of the Crown.
It remains controversial whether Whitlam's role actually lent him the legal powers to bring it about legitimately. Nonetheless, then-Prince Charles wrote to Kerr to congratulate him, calling his dismissal of a democratically-established body "courageous".
In 2015, 27 secret memos exchanged between Charles and government ministers in 2004 and 2005 were released after a ten-year legal battle by the Guardian. It cost the government aka the taxpayers close to half a million pounds to lose that fight.
The documents showed intense lobbying of PM Tony Blair by the heir to the throne, among other things demanding improved equipment for troops fighting in Iraq, requesting improved availability of alternative herbal medicines in the UK, urging a badger cull, and proposing that his own aide brief Downing Street on new hospital design. The cache is known as the 'spider letters' because of his eerie handwriting.
This was not the end of princely lobbying. From 2010 to 2015, Charles had 87 meetings with ministers, opposition party leaders, and government officials, that we know of. Given how difficult it was to access the spider letters, it's impossible to know the true extent and influence of Charles' insertions into government decision-making.
It was revealed in 2021 that Charles compelled ministers in John Major's 1990s government to secretly change a proposed law, to benefit his landed estate. Senior ministers yielded to such demands to avoid a constitutional crisis.
The Crown, Inc.
Both Charles and his mother used, over a thousand times, a procedure called Queen's Consent to change laws to benefit their private interests. They could be given a peek at draft legislation in advance to see whether their public powers or private assets might be affected.
It goes further than just looking. Ministers must get royal consent before the relevant legislation is approved by parliament. This is not the same thing as the rubber-stamping third and final stage of legislation creation known as Royal Assent.
The Queen's spokespeople said Queen's Consent, now presumably King's Consent, is as inconsequential as Royal Assent. But then 1993 documents came to light showing that Charles prevented tenants on his estate from being included in right-to-buy laws, one of four times we know of that leasehold laws were changed in favour of royal landowners at the expense of their tenants.
Many people think the Crown has paid taxes since widespread outcry in 1992 over Windsor Castle fire repairs. In fact, it's still exempt from taxation by law, including a prohibition on application of income tax to Sovereign Grant takings, and forgiveness from payment of inheritance tax (which alone must surely represent a loss to the country's coffers of multiple billions).
What happened in 1992 was that the Crown acceded to payment of 'voluntary' income and capital gains tax on private investments and on the Privy Purse (income from private estate the Duchy of Lancaster's assets, land, and property), but only 'to the extent that the income is not used for official purposes'. It's like an onshore offshore tax haven, based purely on status and the accident of birth.
Bowing to the bagman
The 2017 leak of the Paradise Papers on global tax avoidance showed that the Duchy of Lancaster also employed actually-offshore private equity funds to avoid paying more tax, in common with megacorps like Facebook, Nike, and Apple. Schrödinger's Fat Cat: simultaneously making bank via being both an archaic anachronism and a very modern corporation.
There were multiple scandals over the years involving the Queen's children and grandchildren taking money from people in the Middle East and elsewhere. Charles and his charity were embroiled in a cash-for-honours scandal, but of course 'no further action will be taken'.
And he took £3mn in actual cash from a senior Qatari politician. "The cash was … in a suitcase on one occasion, a holdall on another, as well as in Fortnum & Mason carrier bags, the up-market department store which holds a royal warrant to supply the prince's household with groceries." How, pray tell, did this get through customs? After all, it could have been transferred Coutts-to-Coutts, in not-cash, but wasn't.
Andrew's daughters received many thousands from some dodgy character without raising an impeccably plucked eyebrow. Apparently it's all just Normal For Royals. Andrew himself had to step down as a 'trade envoy' after ten years of getting up to who-knows-what in our name. That decade cost taxpayers $28mn in fancy travel and security expenses.
In 2021 it emerged that Tory David Rowland paid off a $2.8mn loan Andrew took from Banque Havilland, controlled by Rowland's family. Andrew borrowed $236,000 every three months from 2015–17. In late 2017 he asked for $472,000 for 'general working capital and living expenses'. The debt was repaid in December 2017 by a company registered in Guernsey and controlled by the Rowlands. Nice work if you can get it. No sweat.
Please, sir …
Only when it comes to light do they promise not to do it again. As with the government, they weren't sorry when you didn't know: never forget. And ponder how descendants of descendants of German and Greek princes, invaders, robbers, and warlords somehow became considered to be 'uniquely British'. Schrödinger's aristocrats.
It's at this point in the discussion that people start asserting how great the Crown is for tourism. France makes far more from tourism, and their royals are … well. Anyway. Versailles is much-visited by tourists. Around 15 million a year.
With the mostly admired Queen gone, Charles might wish to boost limp ratings. Few seem to have the same fondness for him they had for her, and the stability of her long reign is gone. He's been keeping fairly quiet since his Coronation extravaganza.
We still haven't been told how much that cost, though we paid for most of it. We're never asked for pre-purchase approval, or shown the receipts. Some say £125mn, some double that. The Crown claims "global interest" will more than repay us. Like taken-for-granted artists, we're doing it for 'the exposure', apparently. Can you imagine anyone else spending your money that way and getting away with it?
On the subject of exposure, perhaps the monarchy could do a reality show, in exchange for us letting them continue to rake in private loot while taking from the public purse, and dodge taxes that could've rid the nation's children of their gnawing hunger.
At least that way we'd see more of the castles, paintings, and so on that we've worked so hard to help pay for. We could open the box at last, and see if there's actually anything inside it for us. We could call the show Dynasty?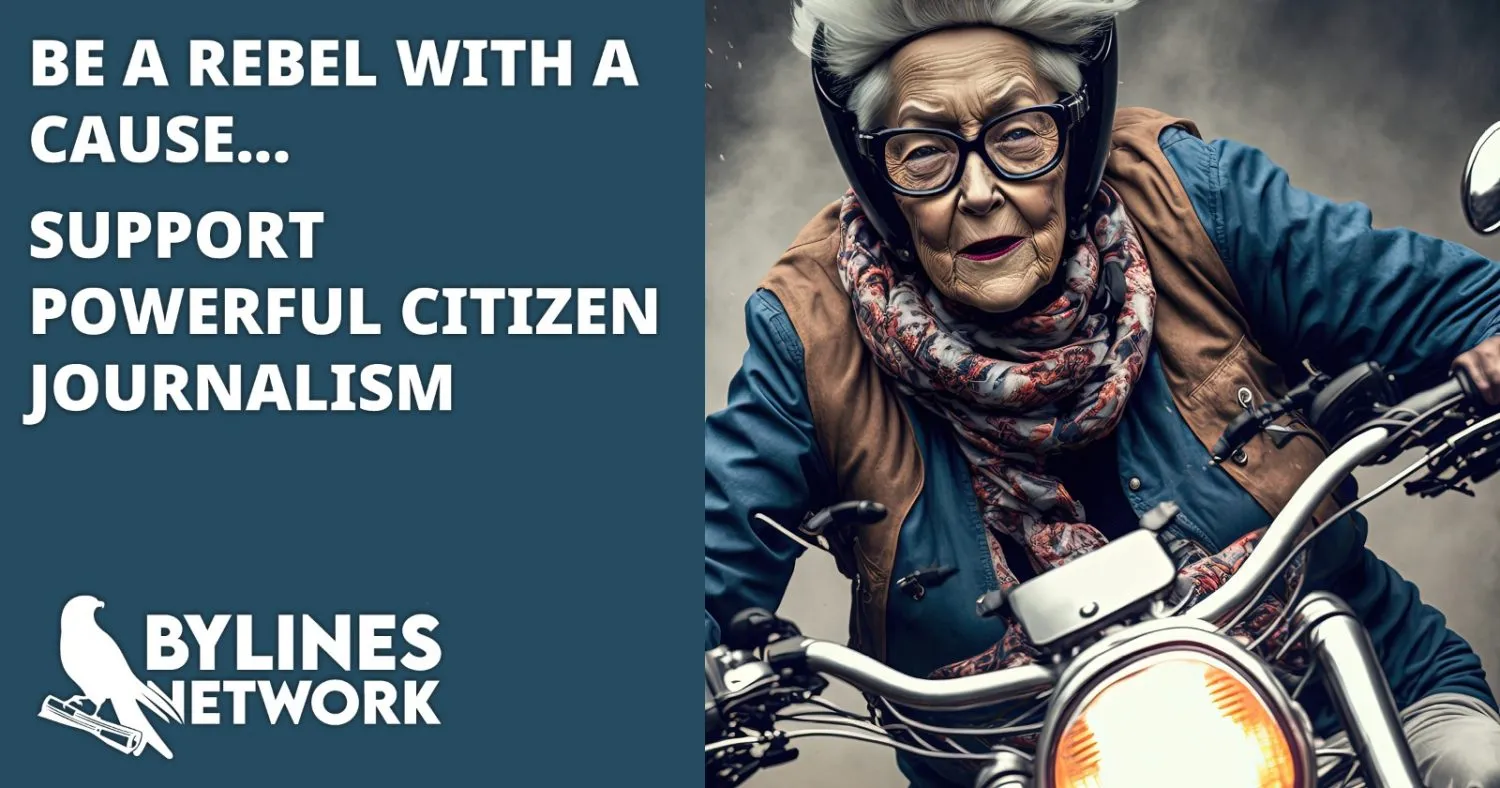 CLICK HERE TO SUPPORT THE BYLINES NETWORK CROWDFUNDER!