Stuart was one of the loneliest people I ever met. He struggled for years with an exhausting, dark depression that robbed his life of any colour or vibrancy, and was extremely physically unwell. He had a degenerative bone disease that made mobility very difficult. It was always touch and go whether he'd be able to see me at all.
Sometimes all Stuart could manage was phone calls to the charity where I worked, to tell me he was too ill to make it to counselling sessions. During those, we talked about his long-term dependency on prescription drugs and heroin. He was almost completely alone in the world. His ill-health left him isolated from the rest of society. Coming to our day centre was one of the few ways he could connect with others.
Though only in his mid-50s, Stuart was already contemplating the end of his life. He could see himself dying in the next decade or so and doubted he would live much beyond 70. He could also perceive a more immediate end. "It's simple, really," he said. "If they cut my benefits, I'll kill myself."
WCA review: deadly serious
I remember how matter of fact Stuart was; how much I believed that he was deadly serious. I also remember reflecting on how swiftly people like Stuart, who exist at the edges of society, can be plunged into oblivion.
I'm thinking of Stuart this week, wherever he is now. Because Work and Pensions Secretary Mel Stride announced a consultation to change the Work Capability Assessment (WCA) for sickness and disability benefits claimants. The plan is to 'tighten' assessments, lowering the threshold to be considered 'fit' to work, so more people with disabilities or long-term health conditions will find employment.
The WCA evaluates eligibility for Universal Credit and the Employment Support Allowance. For those judged not to be capable of work at all, the outcome – in theory – is full entitlement to Universal Credit, and slightly more if a top up called the 'work capability amount' is added.
For those thought to be capable of some work, the benefit level decreases. For those deemed well enough to work, access to both benefits is denied. There's an appeals process, but for many struggling with long-term mental and physical health problems it can be a difficult and stressful process.
If you've read my previous articles, you'll know I have nothing but the fiercest condemnation for the austerity years and the cruelties inflicted on ordinary people by George Osborne and Iain Duncan Smith. The WCA was, however, a Labour innovation, established in 2008 for the purposes of electioneering.
The Conservatives ran with it after 2010. Periodically making it more exacting, making the hurdles mentally and physically unwell people have to leap higher and higher, makes it a powerful instrument to wield against the vulnerable. It's the latest weapon the Tories and their media friends wield in response to disastrous polling.
Pollution of public discourse
The most recent and reliable figures put the numbers of austerity dead at 335,000 from 2012–2019. After a further four years of the same barbaric policy, it'd be a statistical improbability if austerity deaths hadn't reached or exceeded 500,000. Lord Prem Nath Sikka recently suggested that they might be significantly higher.
As with all cases of mass death, statistical pictures vary. But the aggregate of peer-reviewed studies is that, from 2010 onwards, mass mortality increased in a way that's unprecedented in peacetime. And now, because the Conservative Party is desperate to win an election, and tormenting refugees hasn't cut through with their target demographic, they want to go further.
Opinion Polls showed in 2018 that the public had turned against austerity, believing it had gone too far. This suggests that current attempts to reheat a 'war on scroungers' will probably fail to save the party from the electoral armageddon it faces. What it will do is continue to pollute public discourse with a rhetoric that's classist, ableist, and argues for ever-more impossible conditions in which the most vulnerable could eat, heat their homes, or afford bus fare.
If these policies make it onto the statute books, be in no doubt that they will kill. There are people in difficult circumstances now who'll die of the stress and misery such measures will inflict. How can we be sure of this? We already have 335,000 case studies and counting. Around one in every 200 people in the UK have been killed by austerity decisions, that we know of.
A sicker society
The government indicates that the issues of ill-health targeted are mobility and anxiety. In its own literature it describes recipients of incapacity benefits as "stuck" without the support needed to access work.
For many long-term ill or disabled people, the loss of independence and community that paid employment brought can be frustrating and depressing. But the government's proposed WCA changes won't be a supportive innovation to help them return to work. It will be economic coercion.
It's questionable what economic purpose harsh reforms serve. There's an artificially manufactured labour shortage as a result of Brexit. (A key argument justifying Brexit was that British workers would face less competition from European jobseekers). But coercing unwell people to fill jobs under duress seems a brutal, short-sighted solution.
Another argument in circulation is that welfare is a drain on the nation's resources, and benefits funding could go instead to schools and hospitals. If we take this absurdity seriously, we should ask where the billions saved in benefits cuts in the past 13 years have gone. To our schools and hospitals, some of which face imminent collapse? A common complaint on radio phone-ins and talk shows is taxes going to 'scroungers', but nobody got a generous tax cut funded by benefit cuts. The truth is that welfare cuts make us all poorer.
When we engineer a sicker, more desperate country, not only do basic services we depend on come under greater strain, particularly health services, but the glue that holds us together unsticks. When politicians and pundits feed off anger, resentment, fear, and bitterness, suggesting some aren't pulling their weight, exploiting rare cases of fraud to condemn the whole, they create a form of disabling psychical misery. A sickness.
WCA: Wicked Conservative Austerity
The evidence on austerity concludes that it kills. Proposals to remove a further million people from their only financial lifeline, forcing them to do work they can't cope with or physically do, will kill yet more. Are we so desperate for imagined, marginal economic benefits that we'd countenance this? When presented with the brutal truths of austerity, most recoil from such an outcome.
But not the government. One can only assume they think punishing rhetoric will win them the next election, or prevent them from losing so badly they're replaced as the party of opposition. They rightly assume some citizens believe austerity doesn't go far enough.
There are a handful who believe very alarming things indeed. It was once the practice of both Conservative and Labour governments to marginalise them in the interests of the collective good. But austerity has made us a crueller, angrier country generally. So the government has no one but the sadists among us to turn to, as they propose a slow, drawn-out campaign of societal manslaughter. Like drug addicts, they need an ever-greater hit to feel the effects.
To retain any form of society, we must unite in our rejection of such plans. If you can't think of others, think of yourself. If you're mentally and physically fit, reading this now and thinking these measures are targeted against others, I urge you to consider the precarity of life more carefully.
We share the same vulnerable, fallible bodies as those now in the government's welfare firing line. We can all expect, at some point in our lives, to become mentally or physically unwell, perhaps chronically so. The government proposes that you consent to the removal of a safety net you might need someday yourself. Are you in?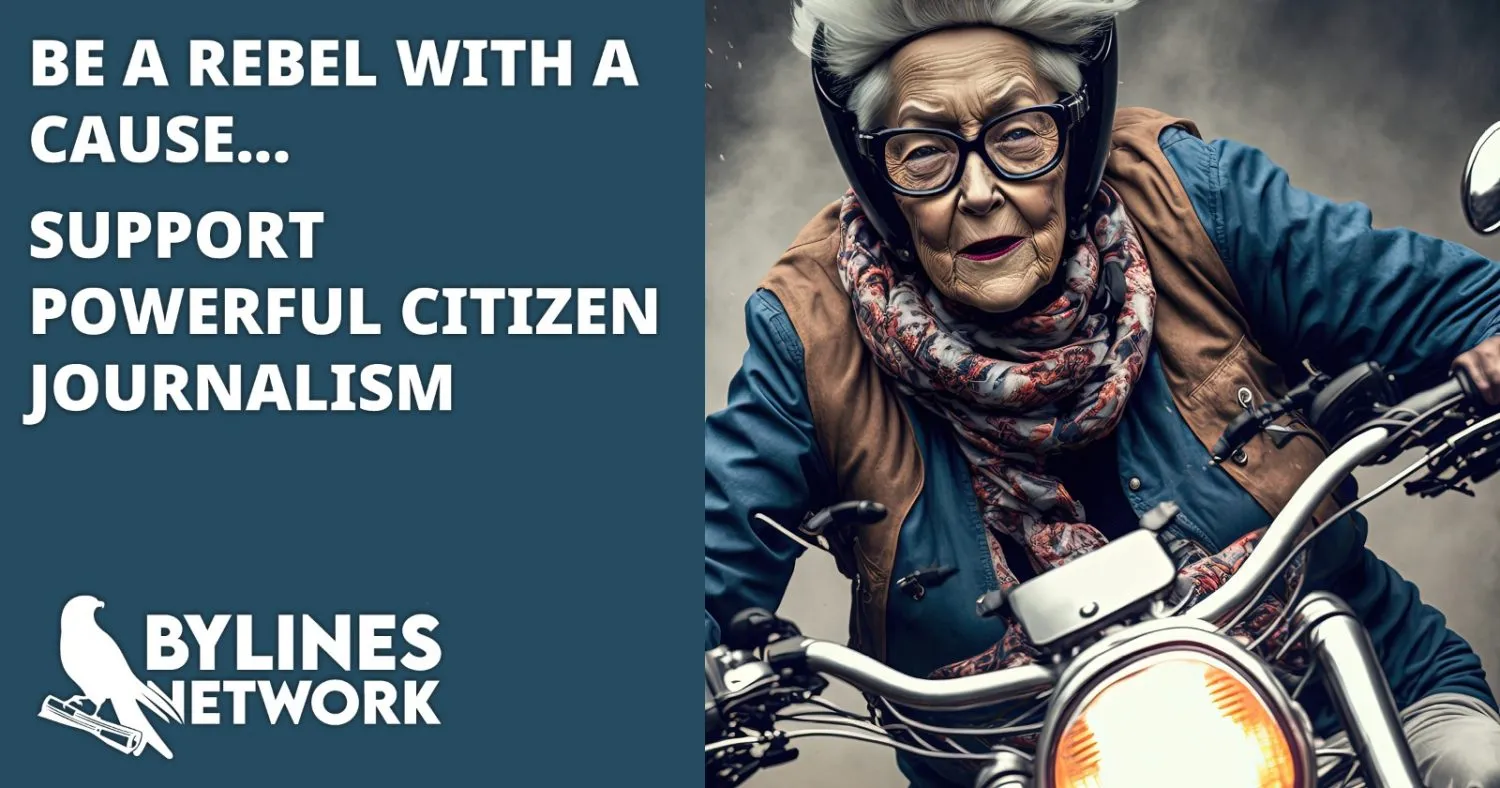 CLICK HERE TO SUPPORT THE BYLINES NETWORK CROWDFUNDER!