You may be aware of the whistleblowing doctors who raised concerns about Lucy Letby at the Countess of Chester Hospital, but were ignored or even punished. These types of stories have happened to many of us who worked in Welsh healthcare.
In 2014, I found myself whistleblowing in the Welsh NHS. Let me tell you my story.
Whistleblowers raise concerns
I was a children's doctor, and I trained in Wales and always worked here. My concerns started around 2008, when funding and staffing for children's services were reduced. Why are children's services often the first to be impacted by cuts? I wonder whether it's because children have a very small political voice?
The day-to-day running of our service slowly deteriorated. By late 2013, the situation was bad. My colleagues were clearly struggling with stress. Our normal team meetings were mostly cancelled. No one was overseeing the work of junior staff. At one point every member of my unit was off on long-term sick leave. Reasons were varied but, knowing them, clearly work-related stress greatly impacted our ability to provide a service.
I had been raising concerns with managers almost daily for around a year. In the Welsh NHS there was an incident reporting system, to which I found myself reporting more and more. No one appeared to be listening. All interactions with management resulted in a somewhat condescending "There, there, we are in the process of change" type of shutdown.
A potentially lethal case triggered me into escalating concerns, but in reality it was just one of many clinical incidents. None had generated a 'safety first' response from managers. I contacted my medical insurance society (doctors have to be insured to work in UK hospitals). It appeared I had one option. Officially blow the whistle.
I wrote to management and told them what I was going to do. I then wrote a long email to my MP. It was a relief, as I thought someone somewhere would sort it out.
Little did I know it, but this was to be the suicide note of my career.
Solitary confinement
Soon afterwards I was suspended from clinical duties and placed in professional solitary confinement. I was under investigation (known as WHC/90/22) for an incident that happened long before I was a whistleblower. A professional email of mine had been altered.
If you're wondering how to change an email (I had to fiddle around to work it out), you just forward it and change it. It's that simple, but you wouldn't know how unless shown. I never discovered who changed the email; access to defensive evidence is hard to come by in the NHS. I have my suspicions. Their evidence accused me of breaching patient confidentiality.
I sat in a cell-like room in a faraway unit, told not to talk about the investigation, with little communication from management. My nine-to-five 'working day' consisted of having a nap, reading a book, and phoning around to find out what was going on. I was blessed by good union representation with the British Medical Association, which stopped me from resigning. They weren't able to stop the dodgy investigation or get me out of NHS jail.
When you're suspended from clinical work, your patients also get suspended. None of my patients were followed up. I recall one who was very unwell, I'd seen her several times a week. She was lost to services when I was suspended. I later tried to find out what happened. I don't think she was ever seen again.
Around five months later I was told the investigation was over. I was free to resume clinical duties. No further action. But by this point I felt like damaged goods. I had a long and unblemished NHS career before whistleblowing. I'd been prompted to seek promotion. But now I had a big black mark against my name.
The transfer unit
And it didn't end there. After resuming clinical duties, management continued to gather evidence against me. I was aware another investigation was imminent. I was allocated complex complaint cases. My diary was tampered with, and I wasn't allocated enough time to complete assessments.
On one occasion I was verbally attacked by a senior clinician, such that colleagues put out an emergency call for assistance. They thought a patient was attacking me. When they realised who was involved they walked away, and later denied seeing anything.
It wasn't long before I found myself under WHC/90/22 again. Most new allegations were lies, about situations in which I'd been set up to fail. For three years I was kept waiting, frequently contacted about the investigation. Emails were sent at weekends or when I was on annual leave. I was transferred back to the unit where I'd been detained before, but not segregated this time.
The transfer unit was easier to function in. Many there were facing dodgy investigations. I was no longer a pariah, but one of the old lags. We were superficially compliant and worked hard, but privately there was a feeling of anger and disbelief at what was happening. I met another member of staff who'd done professional solitary confinement (it was obviously something management imposed on serious 'boat rockers'). We'd both been transferred out of our usual units, our colleagues and patients told we were long-term sick.
Even now, when I tell my story, I find people don't believe me. They want to believe the NHS is honest and ethical. They struggle to believe it's so unethical and profoundly dishonest, to the point of human rights abuse. Don't we have a fundamental right to a fair trial? Not in the Welsh NHS. Not in any UK healthcare settings.
Whistleblowers are victims
Being under investigation for over five years took its toll. By the time I was cleared from the second investigation, I was struggling mentally. My ability to function as a medical doctor was gone. I found it hard to cope with an NHS rotten to the core. It was a seismic mental shift that I still struggle with. It was traumatic to find that medically trained colleagues (friends?) were willing to collaborate in the lies to protect their own careers.
Don't get me wrong, there were many good people. As the saying goes, 'When your chips are down, you find your friends." I have sweet memories of colleagues hiding behind doors and bringing me a coffee. I had pieces of potential evidence placed in my inbox. One or two nurses stand out as shining examples of people who put themselves in the line of fire for me. But there were too many who simply looked the other way.
On 31 July 2018 I retired with ill-health: Post-Traumatic Stress Disorder (PTSD). My pension was affected. I lost the career I loved and was experienced at. I lost friends.
Why can't the system call such retirements 'whistleblower victims' instead of PTSD sufferers? We are officially labelled as weaklings, too ill to work. I hope one day society will reevaluate and see it differently. Will the Letby case start a new and fairer way of looking at and treating whistleblowing and whistleblowers? Only time will tell.
Damaged goods
Whistleblowers do not get a retirement party. They leave the NHS as damaged goods and pariahs, as snitches. Many describe difficulties in accessing healthcare. Our families have often been profoundly affected. My kids' teen years were littered with stories of how Mum was being 'done over'. I have profound guilt about 'not being there' to support them through their own crises.
But I coped, and stagger on. There is actually a life after the NHS. I spend a lot of time campaigning for healthcare safety and adequate 'speak up' systems in Wales. I work with a group, Do No Harm Wales, which supports Welsh whistleblower victims.
If you're in Wales and considering becoming a whistleblower, bear in mind that it's not devolved. You have to blow the whistle specifically to your MP, that's the law. You can contact a public agency, but the assembly member with the role of health minister isn't on the list of people you're officially allowed to whistleblow to.
In my case, the Healthcare Inspectorate in Wales told my manager I'd blown the whistle, causing no end of trouble. So while that's the official body, would I recommend people approach it? There are support organisations for whistleblowers in England, but in my experience they don't understand devolved issues, which can do more harm than good.
The system is corrupted and broken. And public interest disclosure isn't devolved but health is. Work that one out!
I imagine the Letby case has been difficult for all whistleblowers. It's exposed what most of us have been shouting about for a long time. If I had to sum up the complicated feelings of whistleblowers watching that case very simply, these four words will do.
WE TOLD YOU SO.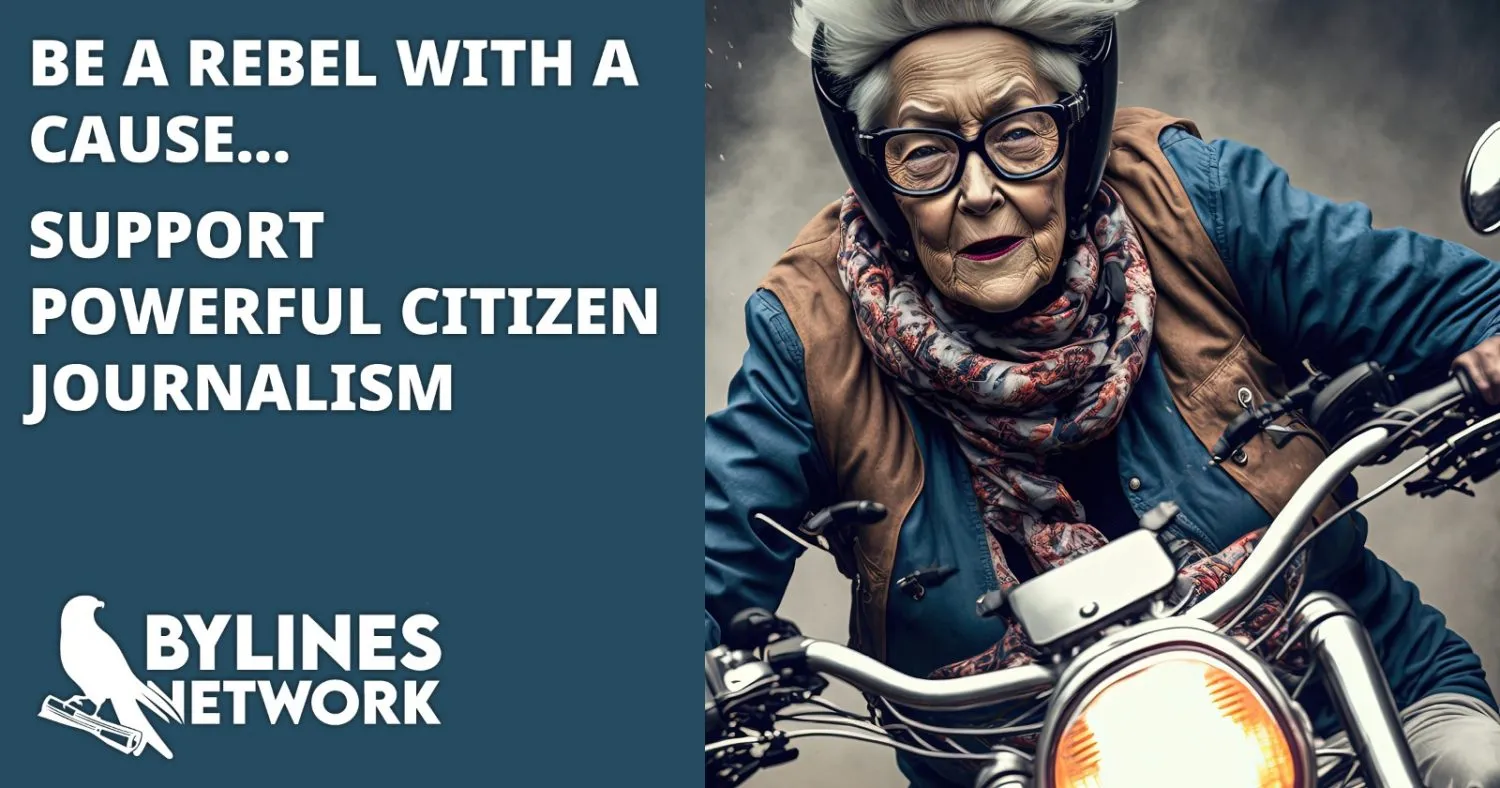 CLICK HERE TO SUPPORT THE BYLINES NETWORK CROWDFUNDER!