Wales is not a large country. At about 8,024 square miles, it is about half the size of the Netherlands. But then again, a bicycle is not the most rapid means of transport. We are not all Geraint Thomas. Wales has such wonderfully varied geology, as reflected in its topography and landscape; is there another means of exploration that can give you such an intimate feel for its undulations and scale?
There are adventures to be had in Wales in little more than a day on a bicycle. There's a long-distance cycling organisation, Audax UK (Audax Cymru), which organises events ranging in distance from 100km to up to 600km and beyond. Many of these events – they are not races – are organised in Wales, and over the years I've been lucky enough to have seen and experienced many of the corners of the country from my saddle.
Audax adventures
At the core of the Audax philosophy is the principle that riders are self-sufficient. There are no team cars, or spare wheels or bikes, nothing that can't be carried by the rider. Finishing positions are not recorded but there are set time limits. Rides must usually be completed at a minimum average speed of 15km per hour, including refuelling stops and equipment repairs. Rides are validated by control points at which riders get their 'brevet cards' stamped. Start times are often set with control points (often a café or pub), opening time, and average speeds in mind.
So it was that, at one minute past midnight one Saturday in June, I set off with others from Tongwynlais, just north of Cardiff, heading west on my bike, mostly on minor roads parallel to the A48. I'm not sure what time I passed through Port Talbot, but I was at Pont Abraham services on the M4 at 4:18 a.m.
What I can confirm is that discotheques, nightclubs, and pubs were discharging their clients in the town at the time I passed through. A middle-aged man in lycra (MAMIL) on a bike in the dark. I received much loud, unwelcome, and largely female catcalling. Surely some of them were also in lycra?
From Pont Abraham the ride continued toward Nantgaredig, Cardigan, past the old lead zinc mining area of Strata Florida. At Pencaegarw there was a small café and control point on the northern slope of the Black Mountain. After 319km, or 198 miles, I'd fallen a mere 11 minutes behind schedule, but was to fall apart completely shortly after that.
With the wonderful proprietor's permission, I had a nap on the café floor before continuing slowly via Brynamman, Abercrave, Glynneath, Aberdare, and the Cynon and Taff Valleys back to Tongwynlais, by which time the control point had closed. I had ridden the full 400km but was out of time for official recognition ('hors délai').
It was still very early in the morning, and a couple of overnight Cardiff revellers were making their way home "Good morning butt, on the way to work are you?" Why else would anyone be on a bike at that time of day, I suppose?
Athletic feats
I was a keen Auk for several years, riding as often as work, family, and other distractions allowed. Many rides started and finished either at an hotel in Tongwynlais or at the Bynea Cycling Club clubhouse just west of Loughor bridge. From there I became very familiar with the roads and hills around Llanelli and the Millennium Coast park, Kidwelly, the Gwendraeth Valley, and Carmarthenshire.
I frequently refuelled at the café at the spectacular Carreg Cennen Castle. But an early season ride called at a pub control point in Cwmdu north of Llandeilo. The cawl and the fire there were most welcome.
From Tongwynlais there were rides to Gower, Margam, and Mid Glamorgan, but also rides north. The Trefil Travail was a relatively short but testing ride, only 100km but with nine steep climbs. An early control point was a pub in the village of Llanwonno. In the graveyard there lies the legendary runner Guto Nyth Brân, whose athletic feats I first learned about at my grandfather's knee.
The route later passed through the poet Idris Davies's village of Fochriw. A self-educated former miner, he wrote the words to what became a folk rock classic by The Byrds, Gwalia Deserta (Wasteland of Wales). The final climb was up to Caerphilly Mountain, from near the A470 to the last control point at the Rose and Crown in Eglwysilan, where I enjoyed the best pint and possibly the most welcome drink I've ever downed.
One of my favourite rides is one I've attempted a few times without finishing within the time limit. The 'Peacocks and Kites' is a 300km ride from Tongwynlais. I was very pleased to see red kites, but sadly no peacocks. It passes through Aberdare, Hirwaun, Llandovery, past the old Roman gold mines at Dolaucothi, and Tregaron, where a pub is reputed to have the grave of an elephant. From there to Cwmystwyth, the 'bald Welsh hills' around the Elan Valley reservoirs, and Talybont-on-Usk. Then, after a severe climb, around another reservoir at Pontsticill, Merthyr Tydfil, the Taff Valley, and back to Tongwynlais.
A couple of mostly Welsh rides started close to or over the border with England. A 200km ride from Gladestry near Kington in Powys to Aberystwyth was a challenging east to west and return event across the narrower part of Wales.
Another 300km ride started at Shrewsbury and took in Lake Vyrnwy and Bala Lake. One mental image from it has stayed with me. After climbing the western side of the former and joining the watershed road on the ridge at Bwlch y Groes, glancing left to the south, the sun was shining and highlighted a perfect u-shaped glaciated valley profile.
The zen of Audax
The view north from the Black Mountain over the green Towy Valley, having reached the summit, has always been a good place to stop and stare for a while. There is often an ice cream van parked there, also very welcome! Views from the Bwlch and Rhigos, ridden in both directions, were always a reason to pause and admire, and there was often an ice-cream van there, too.
What motivates people to take part in Audax events? Perhaps there's a clue in the words of Emil Zátopek, the famous long-distance runner, who said: "If you want to win something, run 100 metres. If you want to experience something, run a marathon."
Certainly, the physical challenge was one reason I chose to become an Auk, but there was also the social element and the sheer enjoyment of being outside. Rides are often on lanes and byways with birdsong in the hedgerows, close to nature. In my experience, the climbs were tough, but the views could be spectacular. There have been some sublime moments.
As for many others, the engineer in me is a bicycle fan for its design, simplicity, efficiency, and environmental footprint. A poll run by the Patent Office voted the bicycle as the best invention of the last 150 years. In terms of energy input to distance travelled, the bicycle moves the human better than the condor moves. A bicycle can be a thing of beauty in itself. It's a fascination I share with Abergavenny's Rob Penn, author of It's All About the Bike.
There's also a certain mindfulness and relaxation in Audaxing. Work and life problems are, for the duration of the ride at least, set aside. There are more pressing concerns, like pedalling, navigation, repairing punctures, and other mechanical issues.
I've caught up on sleep in community halls, cafés, scout huts, and occasionally bus stops. It all adds to a sense of adventure. Through it I've experienced and learned a great deal about my homeland: its beauty, landscape, something of its history, its nomenclature, and its people. You can't beat the feeling of Audaxity.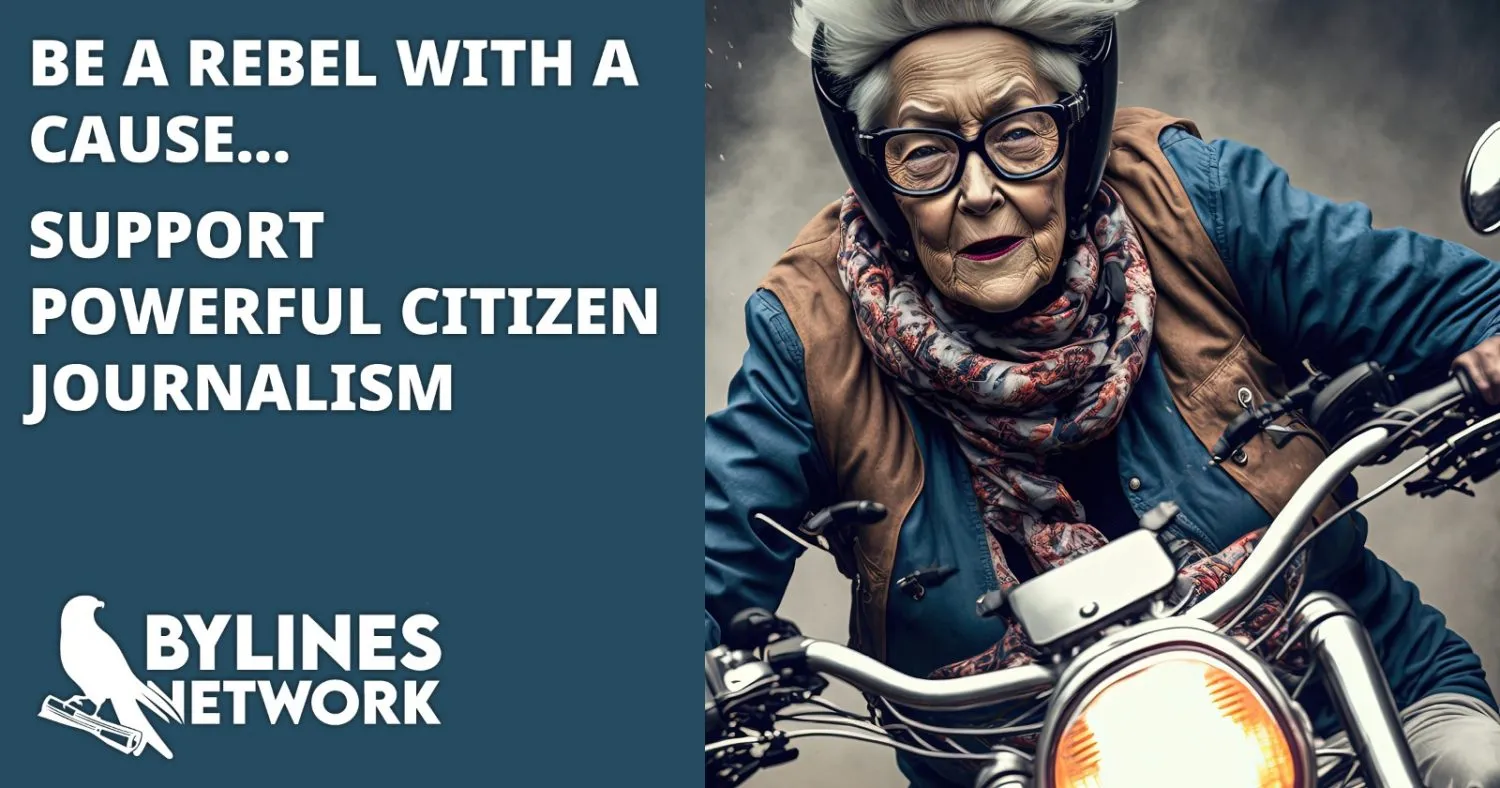 CLICK HERE TO SUPPORT THE BYLINES NETWORK CROWDFUNDER!