This week, Bylines Cymru met some of the incredible people involved with the new semi-professional women's football team at Wrexham AFC, both on and off the pitch.
You can read more about this historic, hard-won step forward for women's football in North Wales, Wales, and the world here.
Lili Jones, Defensive Midfielder
"It's very important to delve into the roots of why people want to be here. The badge carries weight. People who are Wrexham through and through know what I mean. Being from here and living behind the Racecourse [Ground, home of Wrexham AFC], it's massive for me, as a lifelong fan. Playing for the club that I've always loved and supported, since there were only a few thousand people coming here to support it, means so much to me. It means a lot to the town as well."
"We, as women, have a big duty now to make what's happening with the men's team just as big for the women. My Dad threw me in one of the local lads's teams when I was five or six years old. And I just fell in love with the game. My Dad always used to tell me, "Get involved, Lil. Stick a foot in, win that tackle." So I did, and once the boys started having a bit of respect for me, that took my game to the next level. I was ready to show that we can be as good as the lads when we want to be."
"We're mates still, me and the lads. It was out of the ordinary at the time. They come and watch me play here now. Respect is earned, and I definitely earned it with them. Lifelong friends now."
"Hopefully, I'll be an inspiration for people like me, who are growing up in Wrexham, and wanting to play football. Five years on, I'd like to see Wrexham in the Champions League. Hopefully we'll go on and win the Premier League in the next few years. Show everyone down south that the north have just as much strength up here. I hope the girls that are here now, and me, we'll all still be playing our hearts out for Wrexham."
Amber Lightfoot, Forward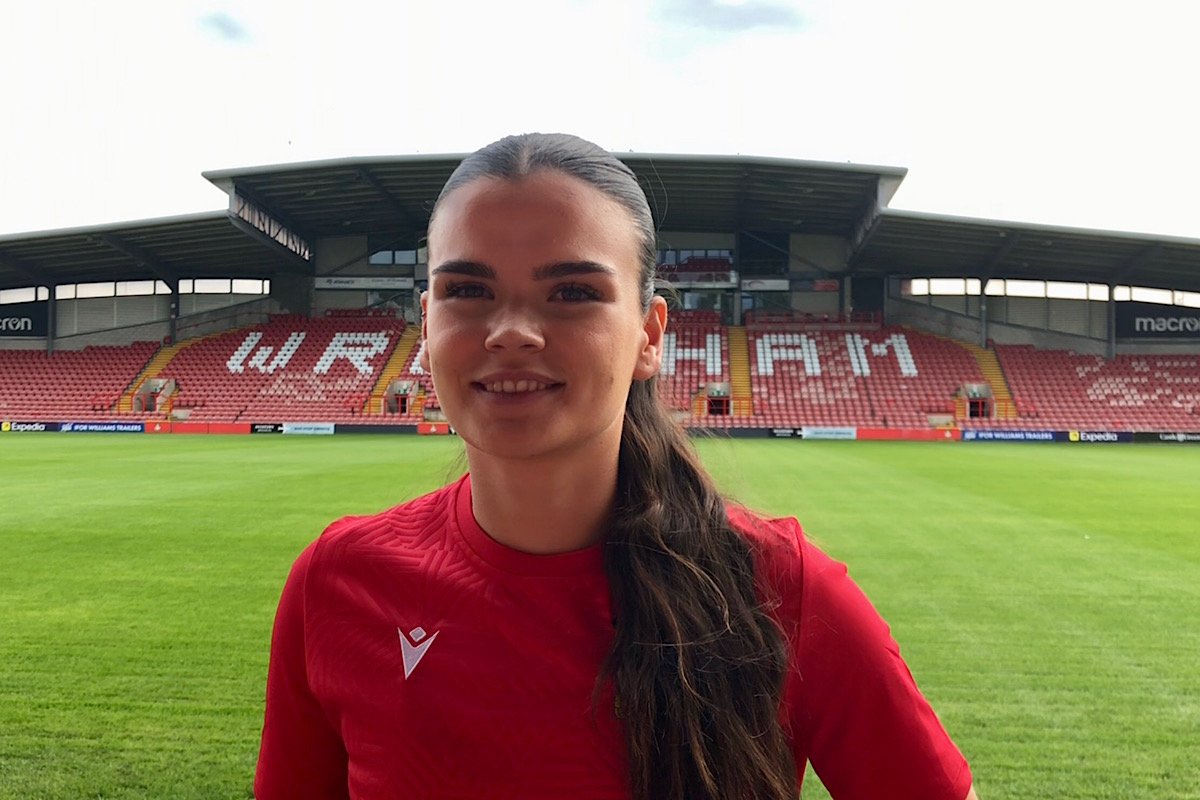 "I've always wanted to play football. My brother used to play and I always used to go and watch him, and wish. I started off with a boy's team when I was six or seven. I've just gone from there to playing for Cheshire, to playing for Liverpool, and now playing for Wrexham, and going semi-pro. It's been quite a journey!"
"The boys thought I wouldn't be that good. When I started taking their positions on the pitch, they didn't like it much. But some of them are still friends now and they're buzzing for me."
"From a young age, I've always wanted to be a footballer. But now signing a semi-pro contract has given me even more of an extra push again to be the best that I can. I know we've got the team to do it. It's a bit strange for me being here, when I'm from Cheshire, and so many on the team are local. But I've been made incredibly welcome. As long as we push together, I know we can win the Adran Prem."
Erin Lovatt, Centre-Back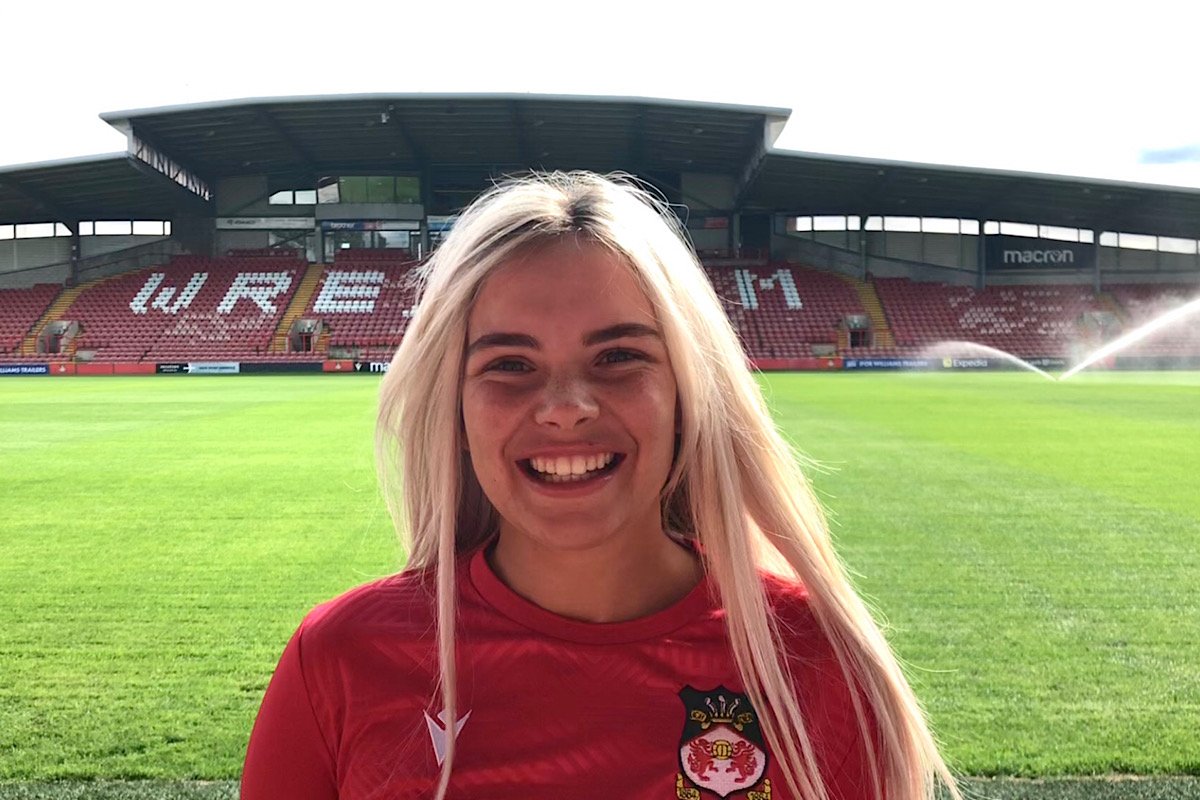 "Me and my brother grew up on football, we're a massive football family, so I was destined to play, really. I started on a little boy's team. I was the only girl at first, then my friend who also plays for Wrexham joined, and it was just us two. You'd think they'd hold back, the boys, but they were really physical. It put me in good stead for my future, to be honest: growing up with that physical side of the men's game before moving into the women's game."
"My family is buzzing. My Dad's always been a Wrexham fan. They came and watched when we played in front of 9,500 fans. He loves seeing his daughter playing on this pitch!"
"I'm a teaching assistant and also studying PE at Liverpool, so it's a lot of travel. But it's worth it, of course. My goals? I'm looking forward to the near future, hopefully winning the Welsh Prem and then going into the Euros. Playing against European teams would be an amazing dream come true."
Rebecca Pritchard, Winger
"I still can't quite believe this is happening. I've had such a rollercoaster history with Wrexham, but where we are now really is a dream come true. It can be a lot, juggling this with everything else. But with support you can do anything. We've not only got the support of our club and its owners, but of the community. Knowing the whole of Wrexham is behind you is incredible. The fans and local people generally have been amazing, and my family, work, everyone. With that kind of support behind us, I feel like we can do anything."
Amy Davies, Videographer
"I used to play for the women three years or so ago. Then I was the videographer for the men's team as a volunteer, then lucky enough to do this freelance. I'm also a lecturer in Esports and Media. So it all fits together really well."
"I live for football, so having this as a job is amazing. And to watch the teams doing so well. I used to play with some of these women, so it's fantastic to watch them thriving."
"It's changed a ridiculous amount very quickly, women's football. Not that long ago we'd be paying for our own kit and training. The pitches we were on weren't the greatest, and not many would turn up to watch. It's amazing to see the investment that's going into it now. And to see young girls coming up and watching a pathway that's being built for them. You see little girls with signs, holding them up, so excited and inspired."
"I loved football from very young but there was none of this then, no girls's teams. I didn't want to play on a boy's team, which is funny actually, because all my friends were boys. I stopped playing at all because I got bullied for being a tomboy. I went back to playing when I was 21. I enjoyed the social and community aspect of it most of all."
Steve Dale, Manager
"It's just Wrexham. Wrexham everywhere," says Steve Dale about how the club has taken off in recent years. We asked him about his own journey with football. Apologies for the wiggly filming.
For more information about the club, including Wrexham AFC Women, start here.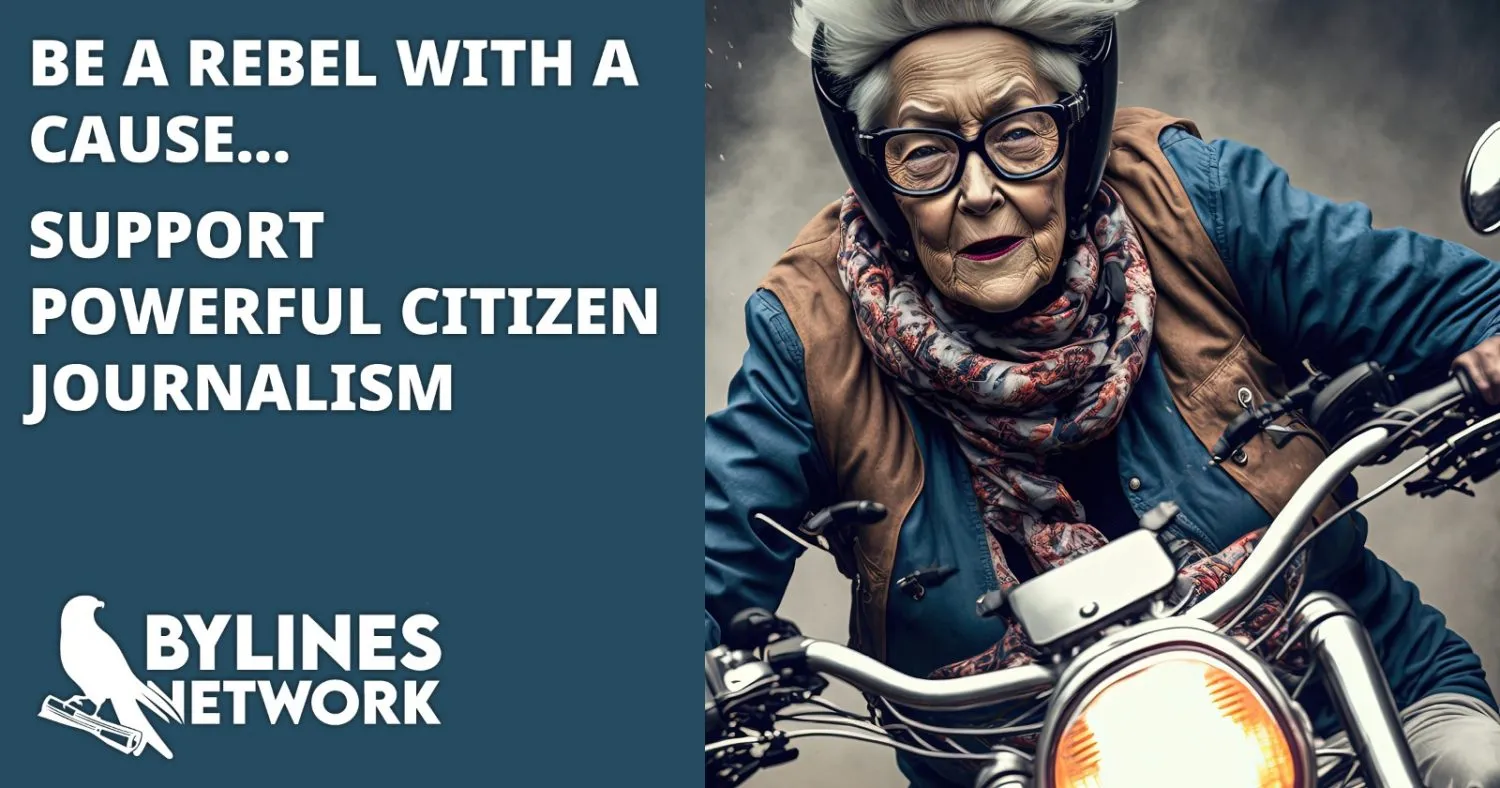 CLICK HERE TO SUPPORT THE BYLINES NETWORK CROWDFUNDER!