Suella Braverman's recent speech to far right 'think tank' – surely an oxymoron – the American Enterprise Institute, and other Conservative rhetoric on immigration, reinforces a theory I've been working on for some time, about empathy. Despite my ripe old age, it's easy to recall too many instances when cruel and spiteful words and actions by politicians caused or failed to ameliorate grief on a monumental scale. From Thatcher's war on miners and other workers to Rishi Sunak's war on migrants, we have witnessed so much cruelty.
Why? Why is the Conservative standby mantra, 'divide and rule', now modernised by Trumpers into 'culture wars', so easy for them to execute? They seem to have no regrets, guilt, understanding, or care for the pain they cause. No empathy. And it's escalating. Sunak meeting with openly fascist Italian leader Giorgia Meloni would have been considered very bad optics not long ago. They no longer seem bothered.
For a long time I thought it was because they were brought up in an environment that routinely 'others' people outside of their own background. However, it was pointed out to me that some of the very worst of these ugly souls did not emerge from the more privileged classes. Indeed, some had similar upbringings to mine.
Absence of empathy
Take Ten Bob Lee Anderson, for instance. His father was a coal miner and he worked as a miner himself. Then he spent a decade at Citizens Advice, before working in hostels, supporting homeless care leavers. His wife has cystic fibrosis and underwent a double lung transplant. He himself was treated for cancer, and was a single parent for many years, having at one point to sell his car to make ends meet. If ever anyone could be assumed to have empathy …
So why? I think I may have stumbled on the answer. Could it be lack of 'cognitive empathy' specifically?
Cognitive empathy, sometimes called 'perspective-taking', refers to our ability to identify and understand other people's emotions. This is somewhat different from 'affective empathy', which refers to the sensations and feelings we have in response to other people's emotions. In my opinion, Conservatives have a surfeit of that.
This is evidenced by Braverman laughing hysterically over a joke while in a detention centre in Rwanda. Or Iain Duncan Smith applauding and cheering like a spectator at a gladiator fight as the empathy-deprived House of Commons set the minimum wage at a paltry £7.20 per hour.
To be clear, cognitive empathy is the use of critical thinking to truly understand someone's thoughts and emotions, while emotional or affective empathy is feeling the same things they do. This explains why a response to someone's plight can manifest as glee if another person is gleeful. That's affective empathy.
The empathy pill
There seems to be plenty of affective empathy within the UK government. What they desperately need is cognitive empathy, which appears foreign to them: the capacity to experience other people's desperation. So what we urgently need is an empathy pill. We should demand that pharmaceutical firms spare no effort or expense to achieve this.
Then, the next time a child of immigrants uses her defective reason to differentiate between discrimination and persecution in order to disqualify LGBTQIA+ people from seeking asylum, or berates the RNLI for saving the lives of migrants, we can simply get her to take a pill. Twice a day keeps the grim reaper complex away.
A minister claims that using a food bank is a personal choice, or evidence of the inability to cook and budget. Having made people poor, he tells them they're doing it wrong. But even as he utters those uncaring, unfeeling, unthinking words, a high-pitched alarm goes off.
In rush a couple of white-coated medical technicians armed, not with a straitjacket, but with a glass of cool, clear water and two high-strength empathy pills. Said minister then rings Waitrose for an urgent delivery to the food bank, and reassesses the entire history of his party's austerity and the many deaths it has caused. Balance is restored.
Imagine that it's the near future. The Home Secretary takes her far right wing ideology to its natural conclusion, announcing a programme of camp constructions to house the unemployed, ill, disabled, and 'bone idle'. She's calling them 'freeports'. As she asserts, "It's just for a short while, to knock them into shape," the Masked Avenger bursts through the door with a feeding tube, rigged up to an industrial dose of the newly-invented empathy serum. And, hey presto! Sanity returns.
A man can dream
The Prime Minister announces the withdrawal of any net zero policies ever, "because we can't afford them", while climbing into yet another private jet the populace will pay for to pop down to his private club. We all stuff fingers in our ears as a 1940s-style klaxon goes off. A Black Hawk helicopter descends, and Chris Pratt abseils down to hastily connect Sunak to an intravenous injection kit. Those with both forms of empathy can feel the flood of empathy molecules coursing through our leader.
Within seconds, miraculous tears flood Sunak's eyes as he envisages the terror and pain of millions losing their homes, livelihoods, and lives as climate change brings about our inexorable destruction, and that of millions of other species. Faster than an Exocet missile, he sets in place a tax on billionaires – including his own family – which will fund net zero costs, state schools, and more. He then rejects all Liz Truss nominations of think-tankers to the House of Lords, before climbing on a train to his constituency, where he glues himself to a road.
Meanwhile, down by a chalk stream, Secretary of State for Environment, Food, and Rural Affairs Thérèse Coffey offers musician, music industry executive, and clean water justice campaigner Feargal Sharkey a crusty roll from her picnic basket. Then she picks up her net and gets back to personally fishing poos from the foamy waters.
So, there you are, fellow empathy-feelers. Do you know of an afflicted Conservative politician near you? Why not pre-book an empathy treatment regime for them, as an early Christmas present to your entire society? Available in all good chemists near you very soon.
Oh, if only. If only.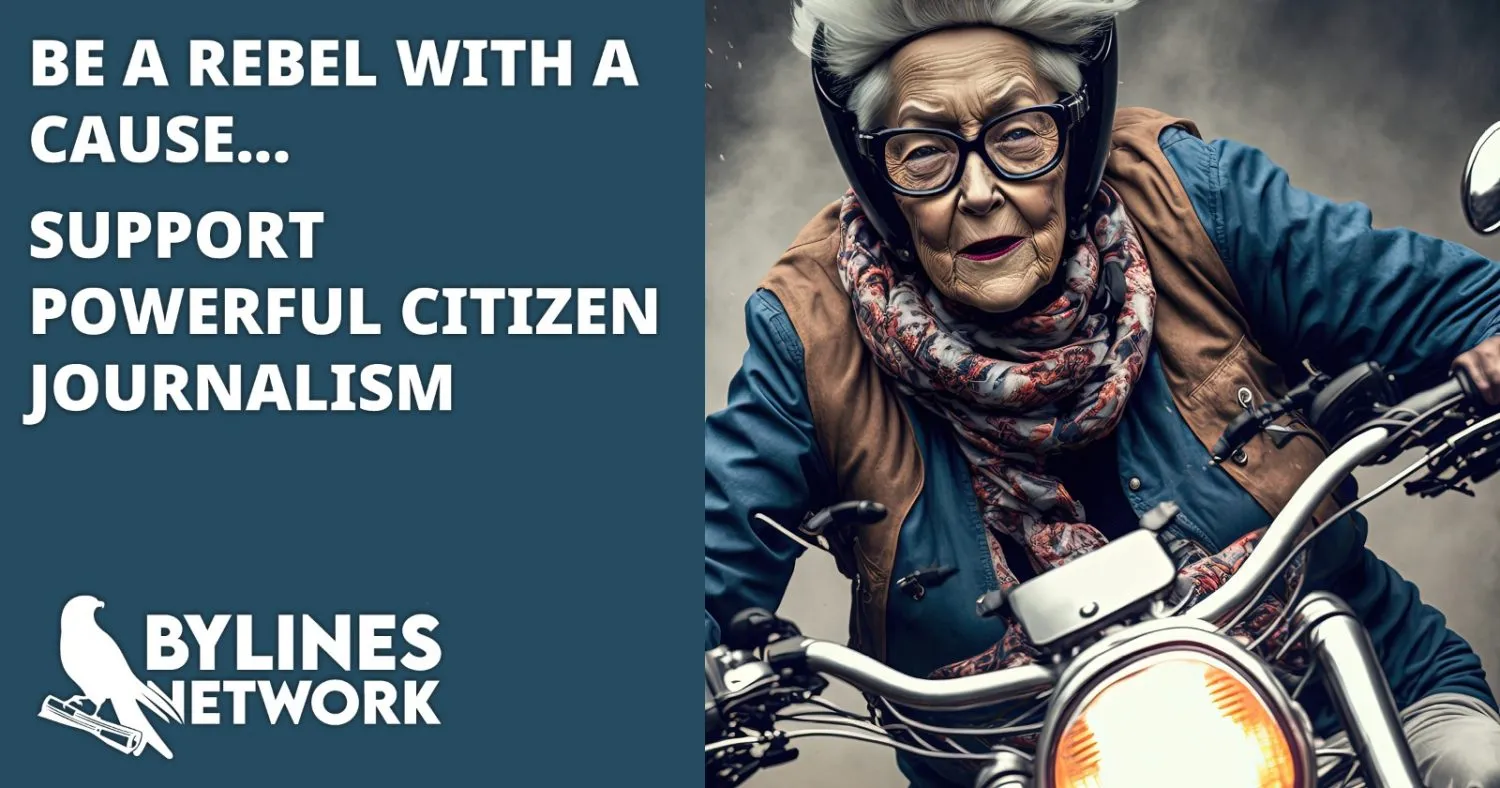 CLICK HERE TO SUPPORT THE BYLINES NETWORK CROWDFUNDER!