I gazed in amazement at the long-forgotten kitchen chair. I sat down carefully, reconnecting with the hard but comforting curves of the well-worn seat. Like puppies out of a box, images of childhood times tumbled into my consciousness.
I spent a lot of time with my grandmother during school holidays. Grandpa died when I was around four. Uncle John lived with Granny and managed the farm. As I grew more aware, I understood that it helped Granny to have me around. I was quiet, compliant, undemanding, and able to occupy myself when she needed time to herself. I also shared her love of craft. Those were some of the happiest times of my life.
Time-worn grooves
Like most farmhouse kitchens, theirs had a rough quarry-tiled floor. Every time Granny mopped it, the time-worn grooves made by thousands of boot-steps held miniature pools of water. The legs of her randomly assorted kitchen chairs sat in these tiny puddles, rotting over time. They rocked unevenly when anyone sat down.
A flaw in one chair's timber caused it to rot more quickly, and it became unsafe. During breakfast one morning it gently collapsed, depositing an unfortunate herdsman in a heap on the floor. Amidst much laughter and little sympathy for Reg, Granny – true to her deeply held conviction that nothing should ever be wasted – suggested it be relegated to the log basket.
Later that day, Uncle John called me into his workshop. As always, he dipped his head to one side as he navigated his tall, lean frame through the low doorway. Once inside, as always, he straightened up, massaged the small of his back, then reached for his dark green calico apron.
Light streamed through the corrugated perspex panels he'd set in the roof. His shed had its own intoxicating mix of odours, layering the Christmassy smell of freshly cut wood with teak oil, varnish, wax polish, and turpentine. It contrasted sharply with Dad's shed at home, a mess of greasy farm machine bits, hedging and ditching tools, hooks and chains, power tools, and oily rags. His nails and screws were all mixed up, hand tools thrown at random into a wooden chest. The door was unlocked each morning, and everyone used everything. I spent many a wet day there "creating".
Uncle John, however, was a woodworker, joiner, and turner. First and last he loved wood. His second love was his tools. Every one had its own place on the wall, arranged in size order; clean, sharpened, ready for immediate use. There were rows of small drawers at the back of his workbench. The creosoted wood was worn and blackened round the finger holes of the most-opened, whilst others remained unmarked. Everything had its place and he knew exactly where. Only the privileged few were invited in.
I'd sit on a tall barstool at the end of the workbench. As he used his lathe or plane, I'd collect wafer-thin coils of wood shavings. He taught me how to glue them together to make flowers, birds, or animals. He gave me my first penknife and taught me to whittle, a skill I've probably now forgotten. His shed had a reassuring sense of order and purpose. I was never allowed in there unsupervised.
Uncle John lifted the injured chair onto the bench and showed me how he'd repaired its fractured back with a small metal plate and screws. His new spindle was straighter than the original, and even now gives the chair a quirky, asymmetrical look. The new, lighter leg stood out in sharp contrast to the rest. He put it on the floor and told me to sit down, then marked it with his flat joiner's pencil. I watched as he shortened all four legs. Again I sat down, and it was perfect. My feet were flat on the floor.
Very own kitchen chair
Some 70 years on, I can hear his soft voice so clearly. "There you go lassie, you can sit next to Granny when she's teaching you to sew." I was thrilled: my very own chair.
He took some wood stain and a rag, working the colour into the new wood until it matched the old. The next day he got Granny's homemade beeswax polish and showed me how to bring out the richness of the timber. When it was done, he took it to the kitchen and put it next to Granny's. It was my chair, in my space, the first piece of furniture I could call my own.
1/3 melted beeswax, 1/3 linseed oil, 1/3 turpentine. Mix well.

Put in a screw-top jar on a sunny windowsill for a few days until it turns creamy-white and semi-solid.

Granny's recipe for beeswax and turpentine polish
Granny took me to the cheese-room above the old dairy where she kept all her fabric. We found some pale blue linen and cotton tapes to make a sewing bag to hang on the back of the chair.
She turned back the heavy Welsh tapestry cloth covering the kitchen table, and folded the linen into three. I measured the height and width of the chair back. Pins marked the cutting lines. I handed her the battered brown cardboard box that held her black-handled scissors. Even now I feel the weight of the flat box in my hands, WILKINSON Sidebent 9" Tailor's Shears Price £2 7s 6d in heavy red print on its side.
No one was allowed to touch them. They were strictly reserved for cutting fabric. I can hear the special sound the blades made as they worked against the table top. As Granny cut, she supported the fabric with her left hand. The veins on the back of her hands stood out like road maps beneath her paper-thin browned skin. My own hands now look exactly the same.
The heavy cast iron black-and silver Singer sewing machine came out from the cupboard under the stairs. The small flat key was looped through the handle of plywood case, with some frayed white string, now turned brown through years of use. As the lid came off, the exotically swirling gold patterns, synonymous with Singer, blazed across the front.
The routine was always the same. The lid was put on the floor under the table. The handle was snapped into place across the wheel. The machine was dusted, and the round metal shuttle filled with the appropriate coloured thread. This was the bit I loved. I was allowed to turn the handle to fill the shuttle. In no time at all, my sewing bag emerged.
Beloved old bones
Granny, undisputed queen of neat-and-tidy, stitched pockets to the front of the bag for all my sewing things. She embroidered my name across the top, and then it was my turn. I decorated each pocket with cross stitch. I too share the family need for order. Even as a child, I loved the way each pocket was made to measure and everything fit so perfectly.
After Granny died, I completely forgot about the chair. It re-emerged recently, during the latest family move and subsequent declutter. Sadly, during its journey from one attic to the next, my bag has been lost.
I rubbed beeswax and turpentine into the wood, and felt strongly connected with my past. For the first time, I truly appreciate the skill and care that went into its creation. Each spindle felt different as my hand slid the waxy cloth down and up its length. Powerful images of Martie, the spar-maker's granddaughter in Thomas Hardy's The Woodlanders, sprang to mind. Her spars were deemed good enough for making chairs just like mine; not thatching, as was their intended use.
I wondered who made three of these spindles, who made the chair, and when? Sadly, there are probably no answers. The keepers of that knowledge have long gone, taking it with them.
I certainly didn't inherit the family's height genes, being only marginally taller now than I was at eight. My chair is as suited to me as when Uncle John made it so. As I sat on it once more, I became aware that the spindles have worked loose again. This time, another's skills must be found to craft a sympathetic repair. My bones inform me that a cushion is sorely needed now, too.
But even without the sewing bag, the threads of my past have me securely grounded in my present. My own kitchen chair is now my regular spinning chair.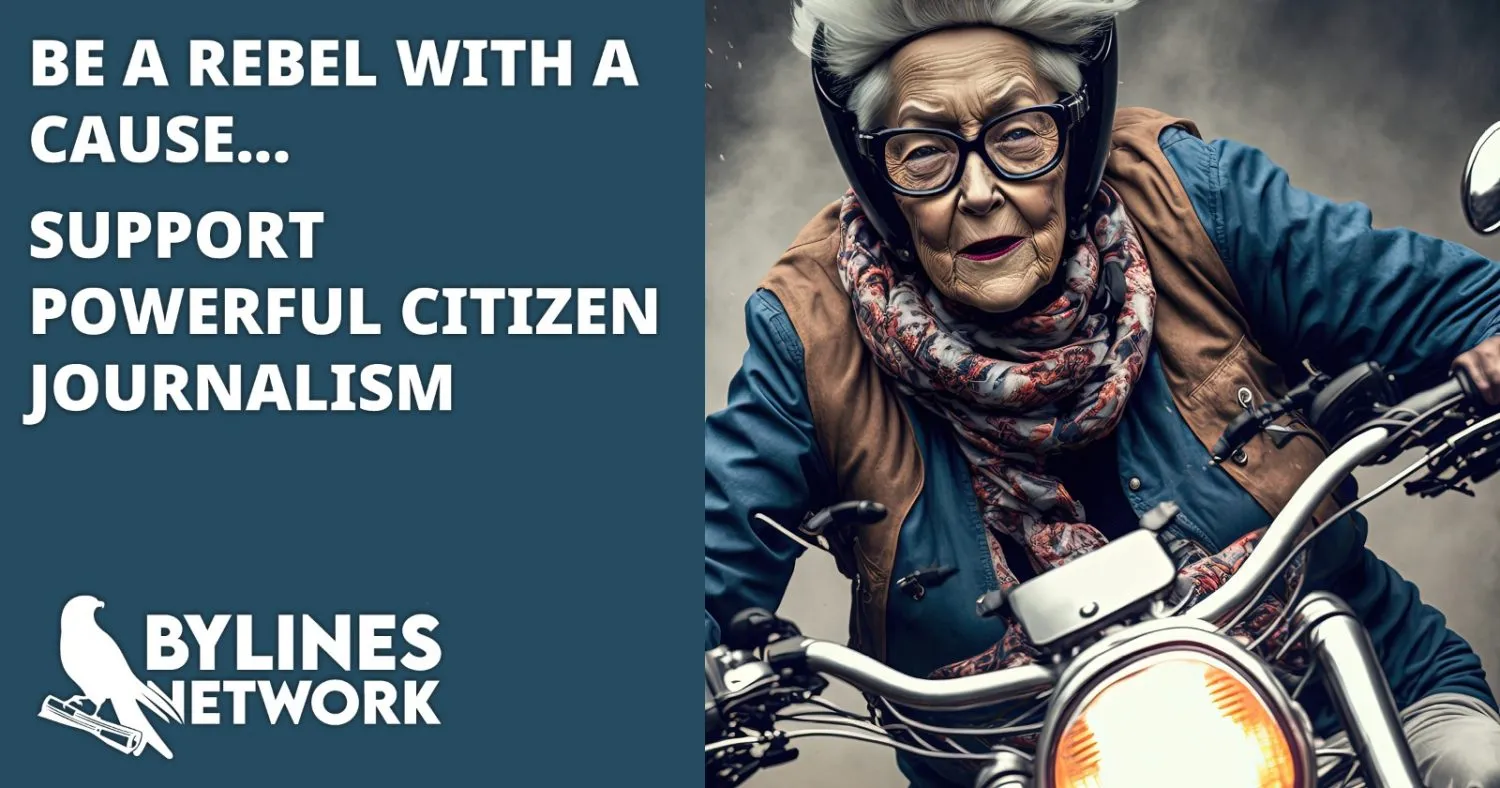 CLICK HERE TO SUPPORT THE BYLINES NETWORK CROWDFUNDER!